Suez Canal Authority says will cooperate with US to float stranded cargo ship
Egypt's Suez Canal Authority said on Friday that it looks forward to cooperating with the United States in efforts to float the stranded container ship that has blocked shipping traffic for three days.
"The Suez Canal Authority (SCA) values the offer of the United States of America to contribute to these efforts, and looks forward to cooperating with the US in this regard," it said in a statement.
For all the latest headlines follow our Google News channel online or via the app.
The 400 meters long Ever Given has been stuck in the canal since Tuesday and efforts are under way to free the vessel although the process may take weeks amid bad weather.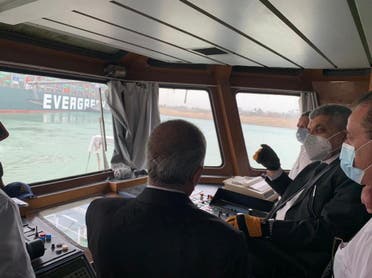 The suspension of traffic through the narrow channel linking Europe and Asia has deepened problems for shipping lines that were already facing disruption and delays in supplying retail goods to consumers.
Analysts expect a larger upward impact on smaller tankers and oil products, like naphtha and fuel oil exports from Europe to Asia, if the canal remained shut for weeks.
"Around 20 percent of Asia's naphtha is supplied by the Mediterranean and Black Sea via the Suez Canal," said Sri Paravaikkarasu, director for Asia oil at FGE, adding that re-routing ships around the Cape of Good Hope could pile about two more weeks to the voyage and more than 800 tonnes of fuel consumption for Suezmax tankers.
Fuel is a ship's single biggest cost, representing up to 60 percent of operating expenses.
Read more:
Egypt races to free giant vessel blocking Suez Canal
Attempt to refloat cargo ship in Suez Canal 'unsuccessful:' Manager
Egypt's SUMED pipeline operator approaches traders as Suez blockage drags: Sources