Iraqi militias
Iraqi forces capture, dismantle 24 missiles near Ain Al-Assad base: Sources
Iraqi security forces were able to thwart an attack with 24 missiles targeting the Ain Al-Assad base, according to Al Arabiya sources.
The 24 missiles were found inside a vehicle east of Ain Al-Assad base, according to security forces.
For the latest headlines, follow our Google News channel online or via the app.
The patrols of the Seventh Division of the 29th Infantry Brigade operating within the Al Jazeera Operations Sector at 20:00 on Thursday, saw a parked Hino loaded vehicle parked at a distance from Hait al-Baghdadi Road, specifically in the al-Bastamiya area, east of Ain Al-Asad Air Force Base where they searched and found a modified missile base containing 24 missiles alongside military uniforms," Iraq's media security cell said in a statement.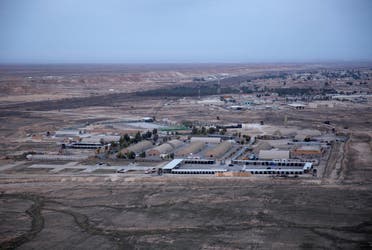 "The engineering expert team was and who are currently dismantling the captured missile. The security forces are now conducting their investigations to find out who parked the vehicle and take the necessary legal measures," the statement added.
Last month, at least 10 rockets hit the Ain al-Assad base that houses Iraqi and US-led coalition forces in Iraq's western Anbar province. An American civilian contractor with the US-led coalition in Iraq died of a heart attack during the attack at the time, according to the Pentagon.