Ten members of the same family were killed early Saturday in an Israeli air strike on the western Gaza Strip, medics in the Palestinian enclave said.

Eight children and two women, all belonging to the Abu Hatab family, were killed in the three-story building in Shati refugee camp that collapsed following an Israeli strike, medical sources said.
For the latest headlines, follow our Google News channel online or via the app.
One baby was pulled alive from the rubble and was taken to al-Shifa hospital after surviving the strike, according to AFP.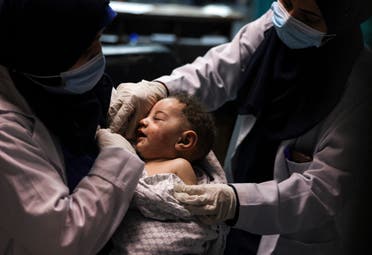 Videos later surfaced on social media showing a man bidding farewell to his wife who was killed in the strike.
Another video showed the father meeting his five-month-old baby, the only survivor, after he was rescued from the rubble.
Following the air strike, the Israeli army announced it had targeted the home of Hamas Security Forces head Tawfiq Abu Naim in the al-Rimal area, near the Shati camp, however, there was no confirmation if he was in the building at the time, according to an Al Arabiya correspondent.
On Friday, the Israeli army said it had fired 450 missiles within 40 minutes overnight at 150 "targets" in Gaza, amid an ongoing military operation on the strip.
US diplomat Hady Amr arrived in the region on Friday as part of Washington's efforts to de-escalate the conflict. He did not make any statements on his meetings with Israeli officials, an Al Arabiya correspondent said.
Dep Asst Secretary for Israel and Palestinian Affairs Hady Amr arrived to TLV today to reinforce the need to work toward a sustainable calm, recognizing Israel's right to self-defense. Israelis and Palestinians deserve equal measures of freedom, security, dignity and prosperity.

— US Palestinian Affairs Unit (@USPalAffairs) May 14, 2021
Meanwhile, the UN Security Council was set to meet Sunday.
Israel turned down an Egyptian proposal for a one-year truce that Gaza's militant group Hamas had accepted, an Egyptian official said Friday on condition of anonymity to discuss the negotiations.
Hamas also announced its conditions for agreeing to a ceasefire. According to the Al Arabiya correspondent, the group called for Israel to stop its forced evictions of Palestinians from the Sheikh Jarrah neighborhood in East Jerusalem, which ignited the recent attacks. Hamas also wants worshipers to be able to freely pray at al-Aqsa mosque and for Israel to halt its air strikes on Gaza.
With AFP & the Associated Press
Read more:
Israeli airstrikes kill 126 Palestinians in Gaza, 11 killed in West Bank unrest
Israel fired 450 missiles at Gaza within 40 minutes overnight: Spokesman
Six Palestinians killed by Israeli fire in West Bank, hundreds injured