Iran-backed Houthis holding US Embassy staff in Yemen: State Department
The Houthis also "breached" the US compound that the Embassy used before they suspended operations in 2015, the official said.
Yemen's Houthi militia has detained US Embassy staff and the Iran-backed group seized property from the US Embassy compound, a State Department official said Thursday.
"We are concerned that Yemeni staff of the US Embassy in Sana'a continue to be detained without explanation and we call for their immediate release," a State Department spokesperson told Al Arabiya English in an email.
For the latest headlines, follow our Google News channel online or via the app.
Bloomberg earlier reported that at least 25 Yemenis were detained by the Houthis in recent weeks, citing two people familiar with the matter.
The State Department official said a majority of the detained had been released, "but the Houthis continue to detain additional Yemeni employees of the Embassy."
On Tuesday, State Department Spokesman Ned Price also said many of the detained had been released. No further details were provided.
The Houthis, designated as a terrorist organization in the final days of the Trump administration, have also "breached" the US compound that the Embassy used before they suspended operations in 2015, the official said.
"We call on the Houthis to immediately vacate it and return all seized property," the State Department spokesperson said, adding that the US would continue diplomatic efforts to "secure the release of our staff and the vacating of our compound, including through our international partners."
US Special Envoy for Yemen Tim Lenderking and Chargé d'Affaires of the US Embassy to Yemen Cathy Westley visited Aden Monday, where they met with Prime Minister Maeen Abdulmalek Saeed, Foreign Minister Ahmed Bin Mubarak, Aden Governor Lamlas, other senior government officials, and representatives of Yemeni civil society.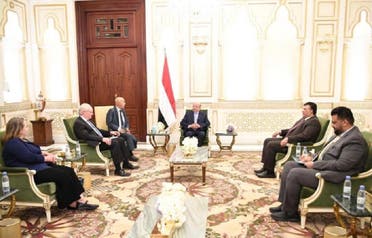 One of the Biden administration's first foreign policy moves was to lift the terror designation off the Houthis and remove senior officials in the group from the Specially Designated Global Terrorist (SDGT) list, citing humanitarian aspects.
The Houthis expelled Yemen's internationally recognized government from power in Sanaa in 2014. The yearslong war has continued to gain momentum, with the Iran-backed group refusing to engage in ceasefire talks.
Washington has increased its diplomatic efforts in coordination with the UN to help reach a peaceful resolution.
Last week, the US announced its biggest arms deal with Saudi Arabia since the Biden administration took office. Citing an increase in attacks, which are carried out by the Houthis against Saudi civilian targets almost daily, the US approved a $650-million-dollar arms package to Saudi Arabia.
Read more:
Saudi Arabia's Ambassador to Yemen meets ambassadors of UN Security Council
Yemeni Journalists Syndicate condemns attack on Al Arabiya reporter, his wife