US slaps sanctions on Hezbollah-linked men, companies
Moukalled is accused of dealing with a sanctioned senior Hezbollah financial official, Muhammad Qasir, including business deals with Russia.
The US Treasury Department sanctioned a man, his two sons, and their companies on Tuesday for allegedly funneling money to the Iran-backed Hezbollah.
One of the sanctioned men, Hassan Moukalled, plays a "key role" in enabling Hezbollah to "exploit and "exacerbate" Lebanon's economic crisis.
For all the latest headlines, follow our Google News channel online or via the app.
Moukalled is accused of dealing with a sanctioned senior Hezbollah financial official, Muhammad Qasir, including business deals with Russia.
"Despite Moukalled's attempts to maintain a facade as a financial expert and economist, he is in fact an opportunistic businessman exploiting Lebanon's suffering population to financially support the Hezbollah terrorist organization, and even help it secure weapons," Secretary of State Antony Blinken said.
Today, @USTreasury designated a financial network that helped Hizballah profit from the economic crisis in Lebanon. This action is a warning to those who would provide support to terrorists and put self-interest over Lebanon's economic stability. https://t.co/x3X0GxqVgM

— Ned Price (@StateDeptSpox) January 24, 2023
Moukalled, who has over 53,000 followers on Twitter, describes himself as the chief economic editor of immarwaiktissad.com, greenarea.me, and russia-now.com.
His two sons, Rayyan and Rani, were also sanctioned on Tuesday. This was the third month in a row that the Biden administration issued a round of Hezbollah-related sanctions.
Last month, three individuals and two companies in Lebanon were designated for providing financial services and weapons to the Iran-backed group.
And in November, members of an international oil smuggling network that facilitated oil trades and generated revenue for Hezbollah and Iran's Quds Force were sanctioned.
The US and Western countries have blacklisted Hezbollah for decades, and several Gulf countries have followed suit in recent years.
Last week, a senior State Department official said the Biden administration was "clear-eyed" about the threat Hezbollah poses to Lebanon and would continue to work to counter and combat the group's influence in the crisis-struck country.
"As corruption undermines economic growth and the ability of individuals to provide for their families, the United States is committed to holding accountable those who exploit their privileged positions for personal gain," said Under Secretary of the Treasury for Terrorism Brian Nelson. "Today, the Treasury Department is taking action against a corrupt money exchanger, whose financial engineering actively supports and enables Hizballah and its interests at the expense of the Lebanese people and economy."
The Treasury Department said Moukalled's money service business, CTEX Exchange, was established last year as a financial front company in Beirut for Hezbollah.
The company received a license from Lebanon's Central Bank to transfer money within Lebanon and abroad, and "within a year, the company had obtained significant market share within Lebanon's currency transfer sector and was reportedly collecting millions of US dollars for the Central Bank of Lebanon."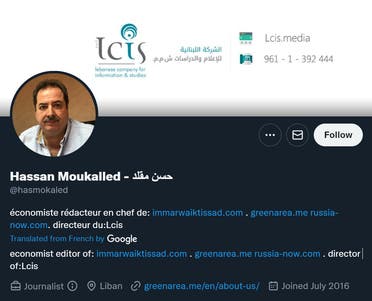 According to the Treasury Department, the company provided US dollars to Hezbollah institutions and recruited money changers loyal to Hezbollah.
Moukalled's companies are accused of working with Hezbollah officials to benefit from investors' and expatriates' efforts to make money in the Lebanese financial sector and transfer cash out of Lebanon.
Decades of corruption and clientelism have also played a key role in plunging Lebanon into what the World Bank has said is one of the worst economic crises globally since the mid-nineteenth century.
The Lebanese lira has lost over 95 percent of its value, and the UN estimates that around 80 percent of the population is poor.
Read more: US 'clear-eyed' about threat Hezbollah poses to Lebanon: State Department