Pentagon says US military helped intercept Houthi-bound weapons from Iran
"The weapons were seized along routes historically used to traffic weapons unlawfully from Iran to Yemen," CENTCOM said.
The US military revealed Wednesday that it played a role in an operation last month that intercepted an Iranian shipment of weapons to Yemen's Houthis.
The Wall Street Journal, citing officials familiar with the operation, reported that French special forces stopped a suspicious vessel on January 15 and found 3,000 assault rifles, 20 anti-tank missiles, and around 500,000 rounds of ammunition.
For all the latest headlines, follow our Google News channel online or via the app.
The US Central Command quickly came out with its own statement, saying that information sharing and coordinated efforts between international forces and CENTCOM maritime forces led to the successful operation.
"The weapons were seized along routes historically used to traffic weapons unlawfully from Iran to Yemen. The direct or indirect supply, sale, or transfer of weapons to the Houthis in Yemen violates UN Security Council Resolution 2216 and international law," the CENTCOM statement read.
US forces have stepped up their efforts to monitor the waters in the region alongside its Gulf and Arab allies.
CENTCOM said the latest operation was one of the four "significant illicit cargo interdictions" over the last last two months, preventing over 5,000 weapons and 1.6 million rounds of ammunition from reaching Yemen.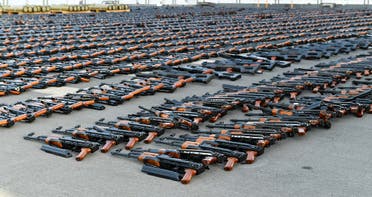 Joe Bahout, the director of the Issam Fares Institute at the American University of Beirut (AUB), said Europe was taking on a more significant role in helping foil Iranian weapons shipments to Yemen.
"Until recently, the #US military had taken the lead in hunting down weapons smugglers ferrying supplies to the #Houthis. Now, #France the #UK are playing a greater role," Bahout said in a tweet.
The US Navy intercepted a fishing vessel with weapons heading to Yemen from Iran on January 6, making it the third operation since November.
In 2021, CENTCOM says it prevented 9,000 illegal weapons from reaching Yemen, representing a 200 percent increase in weapons seized over the previous year.
And last year, US forces helped partner forces seize weapons components for the same cruise missiles used in attacks against Saudi Arabia and the UAE.
Read more: French forces seize Iranian weapon shipment sent to Houthis in Yemen: Report