Syria earthquake: Newborn found under rubble with umbilical cord attached to dead mom
A newborn baby was rescued from underneath the rubble of a destroyed home with her umbilical cord still attached to her dead mother, hours after a major earthquake struck Syria and Turkey early on Monday.
A video that has since gone viral on social media showed the shocking moment rescue teams in Syria dug up the baby girl from beneath the pile of bricks.
For all the latest headlines follow our Google News channel online or via the app.
"We heard a voice while we were digging. We cleared the dust and found the baby with the umbilical cord (intact) so we cut it and my cousin took her to hospital," the man who found her, Khalil al-Suwadi told AFP.
According to a doctor who is treating her in the Afrin Hospital in Aleppo, the baby is estimated to have been born about seven hours after the 7.8-magnitude earthquake hit both Syria and Turkey. Her mother, still attached to her child, was found dead.
Her father and four siblings are also among the over 8,300 people who have died in the quake. The death toll is expected to keep rising as rescue workers continue to work in a race against time scouring for survivors who may be buried underneath the collapsed buildings.
The baby was found suffering from hypothermia after lying underneath the rubble in harsh winter conditions.
"She is now stable. She had several bruises and lacerations over all her body. She also arrived with hypothermia because of the harsh cold. We had to warm her up and administer calcium," her doctor, Hani Maarouf, said.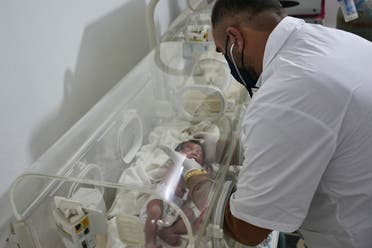 The newborn likely sustained the bruises while she was still in her mother's womb, according to the doctor.
Thousands of children are estimated to have also been killed in the earthquake, according to UNICEF spokesperson James Elder.
The devastating earthquake – which was followed by more than 200 aftershocks and one major tremor – sent entire buildings toppling to the ground, leaving thousands injured and homeless in the midst of winter.
Read more:
Turkey, Syria earthquake deaths rise to over 8,300 as rescuers look for survivors
Syria earthquake: Video shows man rescued after spending 24 hours under rubble
Saudi King, Crown Prince order air bridge to deliver aid to Syria, Turkey