Libyan military strongman Khalifa Haftar said Monday that victory was near for his forces in Derna, the eastern city held by ISIS since the 2011 armed uprising.
Haftar's self-styled Libyan National Army launched an offensive on May 7 to "liberate" the coastal city, home to about 150,000 people and held by extremists since the uprising that ousted dictator Moamer Kadhafi.
"Victory is near," Haftar said in a video published on YouTube, adding that his forces had "cleaned up" suburbs of the city.
LNA forces have laid siege to Derna for nearly two years, making it difficult for residents to access humanitarian aid.
The city is the only part of eastern Libya out of the LNA's control. It is held by a ragtag coalition of ISIS militants, including groups close to Al-Qaeda.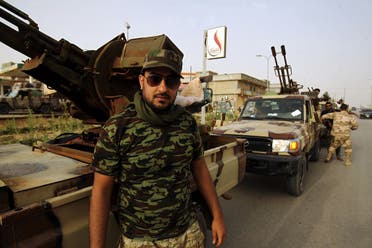 Haftar said that after its "liberation" his forces would deploy across the city to take control of all areas and infrastructure. But he called on them to ensure the safety of residents and to put up defense barriers for additional security.
The strongman whose forces are backed by the United Arab Emirates and Egypt also prohibited his troops from taking "revenge", in particular against "terrorists" who surrender and give up their arms.
"It is necessary to respect legal procedures concerning prisoners and to deliver them to the competent organs," Haftar said.
Some members of Haftar's forces have been implicated in war crimes, including Mahmud al-Werfalli, a commander of the Al-Saiqa brigade based in Libya's second city of Benghazi.
On the humanitarian front, the situation in Derna is critical, according to the International Organization for Migration. Since fighting began in Derna more than three weeks ago, "continued shelling and clashes" have forced at least 425 families -- about 2,125 people -- to flee the city, the IOM's Displacement Tracking Matrix said on Monday.
On Friday, the UN mission in Libya said at least 17 civilians, including two children, have been killed and 22 others, including seven children, have been wounded in the fighting since May 16.
It said the escalation in the fighting reached "unprecedented levels" last week and was getting increasingly close to densely populated areas.