Tunisia's National Security Council to investigate Ennahda's 'secret apparatus'
Tunisia's National Security Council on Thursday will open the file on the secret apparatus of the Ennahda Movement Party.
The party is set to stand accused of involvement in the assassinations of political opponents Chokri Belaid and Mohamed Brahmi in 2013, further increasing pressure on Ennahda which has been in a tenuous situation since Tunisian President Beji Caid Essebsi declaration to sever ties with the party.
The move comes as the judicial system continues to look into information and documents indicating that Ennahda has a secret apparatus operating in parallel with the state and directly involved in the murder of its opponents in 2013, when the party was in power.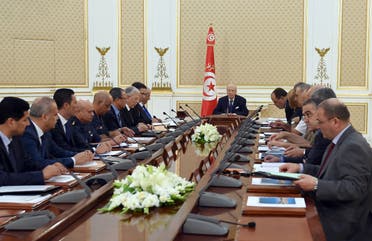 It is expected that meeting of the National Security Council, which will be presided by Essebsi, will explore the possibility for the Council to assume the file and investigate the "serious" evidence and documents presented by the defense of Belaid and Brahmi two days ago to the presidency, which prove the existence of a private and secret organization responsible for the political assassinations witnessed in Tunisia. This apparatus was also accused of infiltrating state institutions and engaging in dubious foreign relations operating against the country's security and interest.
This file imploded two months ago, when the defense team in charge of the Belaid and Brahmi assassination file revealed, through documents it obtained, Ennahda movement's secret intelligence role movement in building a parallel security system to pin down its adversaries and opponents and in order to operate outside the law.
The National Security Council is regarded as a body pertaining to the President of the Republic and headed by him, with the purpose of deliberating on public policies in various areas affiliated with national security.