Saudi football fans 'excited and proud' with Cristiano Ronaldo joining Al Nassr
With a sense of pride, Saudi football fans have told of their excitement to have Cristiano Ronaldo play in Saudi Arabia saying they hope the move to bring in the iconic player to Riyadh opens doors for other players to follow suit.

Ronaldo will play among the ranks of Al Nassr football club after signing the contract that will run until 2025.

For the latest headlines, follow our Google News channel online or via the app.

Ronaldo arrived in the Saudi capital Riyadh Monday evening along with his family and is set to unveil his new team's blue and yellow colors during an event Tuesday evening.

"To see an international player like Cristiano Ronaldo here in Saudi Arabia is a beautiful thing and will have many great consequences on the Saudi football," 27-year-old Yassir Mutlaq, who works in the field of security, told Al Arabiya English.

"Ronaldo is a very ambitious player and he achieved everything in the European [league], and he is now in Saudi to try a new experience," Mutlaq added.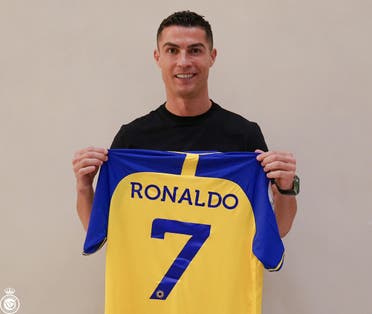 This was articulated by Ronaldo himself where he said in a statement after signing the deal that after achieving his goals in Europe it was now "the right moment to share my experience in Asia."

Ronaldo's new beginning in Riyadh also comes at a time when the Saudi national team put on a note-worthy performance during the 2022 World Cup in Qatar, something that Ronaldo noted in his statement.

"We can see from Saudi Arabia's recent performance at the World Cup that this is a country with big football ambitions and a lot of potential," the five-time Ballon D'or winner said.

Mutlaq said he hoped Ronaldo's move would signal an even brighter future for Saudi football.

"I am proud to see how the football game is developing in Saudi and to have huge players like Ronaldo coming to [play among the league]," he said. "I hope that [this move] will facilitate things for other clubs to attract more superstars."

Khaled Alqunidi, 29-year-old who works in administration, said that when the news of a deal signed was confirmed he was "shocked and surprised" and could not contain his excitement.

"As a fan who watches the Saudi Pro League, I didn't expect such move, to have an international player, even one of the best players in history, to come and play in [Saudi Arabia]," Alqunidi told Al Arabiya English.

"Ronaldo will be an added value to the Saudi Pro League and Al Nassr Club in particular," he said, underscoring that the move coincides with a phase of improvement of the Saudi football game "that was the result of hard-work."

Alqunidi also joined Mutlaq in his hope that Ronaldo won't be the first or the last international player to play in the Saudi Pro League.

"Ronaldo playing in Saudi Arabia will also boost his fandom in the Kingdom and the region, but it will also boost attention directed to the Saudi Pro League."

Read more:

Football star Cristiano Ronaldo to make public appearance at Al Nassr club ground

Cristiano Ronaldo touches down in Saudi Arabia following signing with Al Nassr

Ronaldo 'excited' to start new chapter with 'inspiring' Saudi Arabia's Al Nassr