Doctors in Saudi Arabia begin operation to separate Iraqi conjoined twins
A team of doctors and specialists in Saudi Arabia has started an 11-hour operation to separate an Iraqi conjoined twins, the official Saudi Press Agency (SPA) reported on Thursday.

The twins, Ali and Omar, are undergoing a surgery that consists of six stages at King Abdullah Specialty Children's Hospital in Riyadh, according to the head of the medical team Dr. Abdullah bin Abdulaziz al-Rabeeah.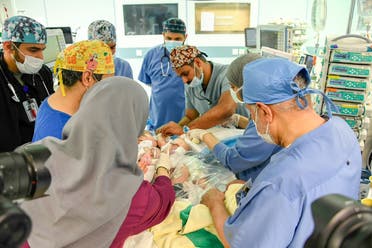 Conjoined twins are identical twins joined in utero. A very rare phenomenon, the occurrence is estimated to range from 1 in 49,000 births to 1 in 189,000 births.

For the latest headlines, follow our Google News channel online or via the app.

The surgery has a 70 percent success rate given the fact that the twins are joined at the lower chest and abdomen and that they share the liver, bile ducts and intestines, al-Rabeeah said.

The operation to separate Ali and Omar is the fifth case from Iraq, SPA said, adding that it's the 54th since launching the Saudi Conjoined Twins Program in 1990.

Professor Osama al-Mashahdani, an Iraqi doctor who arrived from Baghdad in Riyadh to participate in performing the surgery, told Al Arabiya that the first stage of the operation, anesthesia, was successful.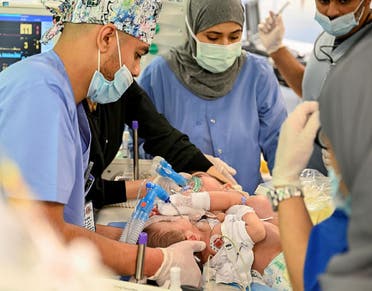 "This was a difficult and complicated stage, and it took more than an hour. [Fortunately] it was very smooth," al-Mashahdani said.

He added that the medical team – which consists of 27 doctors, specialists and nurses – has begun with the third stage which is separating the twins at the liver, bile ducts and intestines.

During the past few months, the twins were admitted to King Abdullah Specialized Children's Hospital to insert skin expanders to increase the skin surface available to cover exposed tissue after the operation, al-Mashahdani added.

Read more:
UK to deepen collaboration on critical minerals with Saudi Arabia
Saudi health ministry allows rollout of updated COVID-19 booster shot
Saudi Arabia announces high-level delegation for annual World Economic Forum meet