Saudi women
Over 250 Saudi women complete training for special security armed forces
More than 250 women in Saudi Arabia recently graduated from the Women's Training Institute with specializations in diplomatic security and Hajj and Umrah security, the Saudi Press Agency (SPA) reported on Wednesday.
The women are the fourth batch of graduates to complete training at the institute, SPA said in a statement.
For the latest headlines, follow our Google News channel online or via the app.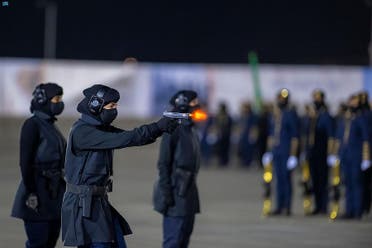 The ceremony was held under the patronage of the Kingdom's Minister of Interior Prince Abdulaziz bin Saud and was attended by His Excellency the Director of Public Security, Lieutenant General Muhammad bin Abdullah Al Bassami, according to SPA.
Saudi Arabia had in 2019 announced that it would allow women in the Kingdom to serve in the armed forces.
Both men and women in the Kingdom can apply for positions in the military through the defense ministry's unified admission portal.
Women can sign up to join the Saudi Arabian Army, Royal Saudi Air Defense, Royal Saudi Navy, Royal Saudi Strategic Missile Force, and Armed Forces Medical Services.
They can also be recruited as soldiers, lance corporals, corporals, sergeants, and staff sergeants, according to the defense ministry.
Read more:
Saudi Arabia's female labor force participation rose to 37 pct in 2022: Minister
Saudi Arabia's female ambassadors: Who are the five women representing the Kingdom?
Saudi Railway celebrates training achievements of its first 32 female train drivers