Saudi Arabia, WEF sign deal to establish accelerator program to drive innovation
A high-level delegation from Saudi Arabia and leaders from the World Economic Forum (WEF) on Tuesday signed a Letter of Intent (LoI) to establish a new accelerator program to help drive innovation in the Kingdom.
The signing took place on the sidelines of the WEF's 2023 Annual Meeting in Davos, Switzerland, according to a Saudi Press Agency (SPA) report.
For all the latest headlines follow our Google News channel online or via the app.
The Saudi delegation included Prince Faisal bin Farhan Al Saud, Minister of Foreign Affairs; Princess Reema bint Bandar, Ambassador to the United States of America; Abdullah bin Amer al-Swaha, Minister of Communications and Information Technology; Bandar bin Ibrahim al-Khorayef, Minister of Industry and Mineral Resources; and Faisal Fadhil al-Ibrahim, Minister of Economy and Planning.
The WEF representatives at the meeting were Klaus Schwab, Founder and Executive Chairman of WEF and Borge Brende, President of the WEF, SPA reported.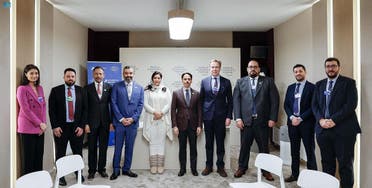 Al-Swaha, who is also the Chairman of the Board of King Abdulaziz City for Science and Technology (KACST) and the Chairman of the Board of The Research, Development and Innovation Authority (RDIA), signed the LoI with the WEF's president.
Under the LoI, KACST will work alongside the WEF to connect experts and knowledge partners from the public and private sectors to develop new promising markets. The move comes as part of efforts to transform Saudi Arabia's economy by developing non-oil sectors, in line with Vision 2030.
WEF's Global Collaboration Village
During the meeting, the delegates also highlighted the Kingdom's role as a Pioneering Partner in the Forum's Global Collaboration Village, which aims to utilize the metaverse to serve the global community, SPA reported.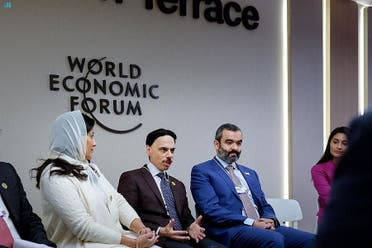 Saudi Arabia intends to build a house in the village, opening a door to opportunities, investment, and collaboration between various national stakeholders and international entities.
It will be used as a tool for attending events, interacting with people, sharing knowledge and making announcements, according to SPA.
During the meeting, the delegation noted that Saudi ARAMCO – one of the Kingdom's leading private sector entities – was the first company to build a house in the Global Collaboration Village.
Other developments
The officials discussed investment in green technologies, as well as how the empowerment of women and youth can help enable effective climate action, SPA said.
The Saudi delegation also addressed the future of the mining industry in the Kingdom and its untapped opportunities, especially considering the increasing demand for minerals and the importance of leveraging the Fourth Industrial Revolution and green technologies.
The meeting additionally focused on updates on the progress of projects launched at WEF's 2022 Annual Meeting.
Read more:
Saudi FM discusses Kingdom's economy, oil, Iran and US ties in Davos
Saudi Arabia's Misk Foundation hosts 'Youth Majlis' at WEF in Davos