Saudi Arabia has won a bid to host the Asian Cup 2027 following deliberations during the 33rd Asian Football Confederation (AFC) Congress in Bahrain, it was announced on Wednesday.

The Kingdom's bid to host the championship came after the Saudi delegation showcased the hosting plan as well as revealed plans to renovate existing stadiums and build new ones.

For the lates headlines, follow our Google News channel online or via the app.

The meeting was attended by Saudi Arabia's Minister of Sports Prince Abdulaziz bin Turki al-Faisal and FIFA president Gianni Infantino.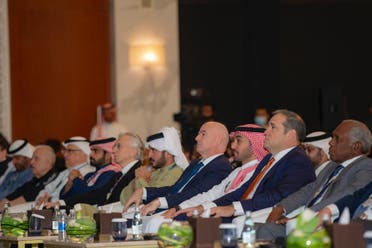 "We welcome all of Asia in Saudi Arabia in 2027," Prince Abdulaziz said after the announcement was made."We are making big strides in hosting the biggest global sporting events," he told the attendees, adding that the Kingdom is ready for this event.

In October 2022, the AFC Executive Committee shortlisted the All India Football Federation (AIFF) and the Saudi Arabian Football Federation (SAFF) as the final bidders to host the Asian Cup 2027 after deliberating their proposals.


However, the AIFF informed the AFC in December of its decision to withdraw the bid from the host selection process, according to AFC's website.

India's withdrawal from the race kept Saudi Arabia as the sole bidder.


The Kingdom submitted its official Bid Book to the AFC in 2020 under the slogan "Forward for Asia." The Saudi bid also comes at a time when the sports scene in general and the football scene in particular have been have underscored by the Kingdom.

Recently, the Kingdom has witnessed matches between global teams such as Barcelona, Real Madrid and AC Milan. Portuguese football icon Cristiano Ronaldo moved to Riyadh as part of a deal to play for Al Nassr club, further strengthening the Kingdom's position in this regard.

The Saudi National team also made a huge impact during the Qatar World Cup with its performance that led it to a win against Argentina.

Qatar is expected to host the AFC Asian Cup 2023 after hosting the FIFA World Cup 2022 for the first time in the Middle East.

Read more:

Saudi Arabia wins bid to host 2029 Asian Winter Games in TROJENA

Riyadh Season's most prestigious zone, VIA Riyadh, unveiled in private ceremony

Saudi Arabia's King Faisal Specialist Hospital ranks 20th globally, first in Mid East