Cristiano Ronaldo celebrates his 38th birthday in Saudi Arabia
Portuguese football superstar Cristiano Ronaldo celebrated his 38th birthday in Saudi Arabia among family, friends and Al Nassr club teammates.

Ronaldo's birthday fell on February 5, and it was the first time the football icon celebrated the occasion in Riyadh after moving to the Saudi capital in January to join the Al Nassr football club.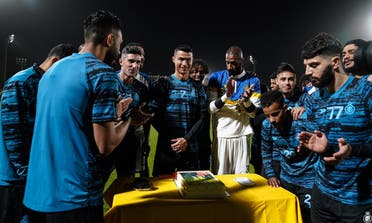 For the latest headlines, follow our Google News channel online or via the app.

On Monday, the club posted pictures and a video on its Twitter account showing Ronaldo's teammates singing him 'Happy Birthday.' Ronaldo then cut a cake decorated with an edible photo of himself, his partner Georgina Rodriguez and their children.


The footballer also published a photo with his family and friends on Instagram showing them sitting next to a bonfire surrounded by tents in what looked like a desert camp.




The five-times Ballon D'Or winner scored his first goal in the Saudi Pro League for Al Nassr last week with Ronaldo saying he was 'happy' of this result.

Ronaldo arrived in Riyadh in January after signing a contract with the club through 2025. He was officially welcomed into Al Nassr in a massive ceremony that was held upon his arrival with his family by his side.


Since arriving in the Kingdom, Ronaldo and his family have been spotted around Riyadh, enjoying the city.

He was recently spotted enjoying a Lebanese dinner in Diriyah. Ronaldo and his family also celebrated his partner's 29th birthday at an Armenian restaurant in Riyadh along with their friends.

Read more:

Ronaldo reportedly sells private jet to buy a bigger one

Ronaldo 'happy' after netting first goal for Saudi Arabia's Al Nassr

Saudi Arabia wins bid to host Asian Cup 2027