Saudi Arabia launches company to oversee 'world's largest modern downtown' in Riyadh
Saudi Arabia's Crown Prince Mohammed bin Salman announced the launch of the New Murabba Development Company on Thursday which will oversee the development of a modern downtown in Riyadh by 2030.
The company chaired by Crown Prince Mohammed bin Salman, will develop the "world's largest modern downtown in Riyadh," according to information shared with the media, and is expected to add $48 billion (SAR180 billion) to non-oil GDP and create 334,000 direct and indirect jobs.
For the latest headlines, follow our Google News channel online or via the app.
The city will be built with sustainability in focus, featuring green areas and walking and cycling paths that will seek to promote active lifestyles. It will also feature a museum, a technology and design university, a multipurpose immersive theater, and more than 80 entertainment and culture venues.
The project is being developed in line with the Kingdom's Vision 2030 goals and will be located at the intersection of King Salman and King Khalid roads to the northwest of Riyadh, in an area of 19 million square meters.
The development will feature more than 104,000 residential units, 9,000 hotel rooms, more than 980,000 square meters of retail space, 1.4 million sqm of office space, 620,000 sqm of space for leisure activities, and 1.8 million sqm of space for community facilities.
It also hopes to incorporate a 15-minute city concept, wherein living, working and entertainment spaces will be easily accessible by its residents.
One of the key projects within the development is the "Mukaab." It has been described as an "iconic landmark featuring the latest innovative technologies" which will measure 400 meter high, 400 meter wide, and 400 meter long.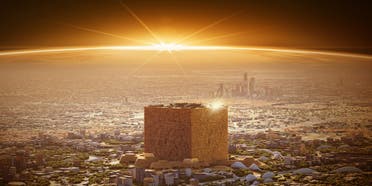 It is reportedly inspired by the modern Najdi architectural style and seeks to be the "world's first immersive destination offering an experience created by digital and virtual technology with the latest holographics."
The "Mukaab" will include a tower atop a spiral base. It is being touted as a "premium hospitality destination with a multitude of retail, cultural and tourist attractions, along with residential and hotel units, commercial spaces, and recreational facilities."
Read more:
Saudi Arabia to build 3,000 homes as Turkey, Syria earthquake survivors left homeless
Saudi Arabia's World Defense Show 2024 will be expanded amid strong demand