Inspired by AlUla and Gaudi, sculptor explains process behind Endurance Cup trophies
Prize money and the glory of victory were not the only things that the winners of AlUla's Endurance Cup took home on Saturday.
For the latest headlines, follow our Google News channel online or via the app.
Three ornate sculptures inspired by the landscape of northern Saudi Arabia were also presented as trophies to the first three riders to cross the finish line after the 120 kilometer Custodian of the Two Holy Mosques Endurance Cup.
The bronze, silver, and gold pieces were created by sculptor Marco Gusto, who has created statues for the Vatican.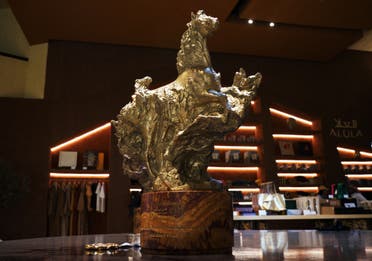 Used to creating towering works of art, Gusto explained to Al Arabiya English that he uses the same process whether sculpting a piece that is 20 meters tall or 20 centimeters.
"It's done with love; they are like my children," he said through a translator. "For me, the process of working on one or the other is giving everything that I can… creatively, emotionally and physically."
"I give it my all. And for me, that is the most essential thing that I can give to my art."
The three trophies are all slightly different due to the process of creating wax molds to pour the molten metal into, meaning that they each stand alone as unique artworks.
Gusto's inspiration came from the natural mountainous landscape of AlUla and the surrounding areas.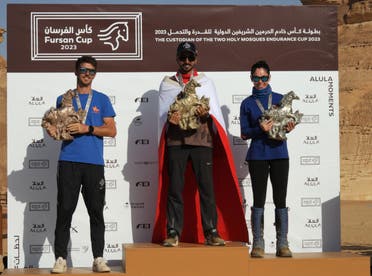 They depict rearing horses shrouded by material resembling the distinctive rock formations found all around the ancient city.
A closer look at the statues reveals symbols such as palm trees, inspired by the ancient rock art found in the area.
The natural elements of the sculptures were inspired by Spanish architect Antoni Gaudi, particularly the façade of the Sagrada Familia cathedral in Barcelona.
Made of bronze, the trophies are planted on a base of onyx.
Gusto previously worked with the Royal Commission of AlUla to design the trophy for the Richard Mille AlUla Desert Polo tournament.
"That inspired me so much to carry out my studies of the region, in AlUla and the Kingdom itself, respecting the traditions and the art," he said.
Read more:
Bahrain's Hashemi wins 'hard' 120km AlUla endurance horse race
Final preparations underway for grueling 120 km horse race in ancient AlUla
Saudi Arabia: First edition of AlUla Camel Cup offers $21 mln in prize money