Saudi Crown Prince discusses Ukraine war, oil markets with Polish PM in Riyadh
Saudi Arabia's Crown Prince Mohammed bin Salman reviewed relations and issues of mutual concern with Polish Prime Minister Mateusz Morawiecki on Tuesday in Riyadh.

Morawiecki arrived in the Kingdom's capital early on Tuesday for an official visit, the Saudi Press Agency (SPA) reported.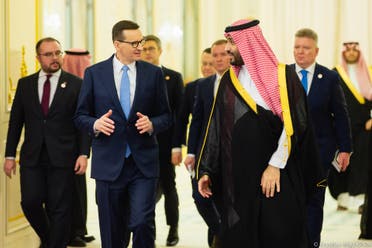 For the latest headlines, follow our Google News channel online or via the app.

He was received by a Saudi delegation including Prince Mohammed bin Abdulaziz, Deputy Governor of Riyadh, at the King Khalid International Airport.

The Polish leader was then received by the Saudi Crown Prince at al-Yamamah Palace and "addressed ways of enhancing bilateral relations in all fields," according to the SPA report.

"The Kingdom of Saudi Arabia is one of the leaders in oil production in the world and thus a strategic partner for Poland in the field of energy," the Polish government said in a statement released following the high-level meeting.
The duo also reportedly discussed the scope of supplies of raw materials in line with the existing cooperation, and establishing the importance of a stable global oil market.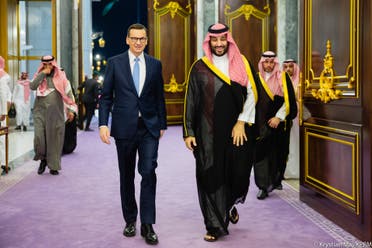 The conflict in Ukraine was also a point of discussion, with Poland's prime minister stressing the need to continue "unwavering support for Ukraine at every level," according to the Polish government statement.

The Saudi and Polish leaders also discussed the importance of innovative technologies and renewable energy sources, in addition to business opportunities for the export of Polish food products to the Kingdom.

Representing Saudi Arabia, the meeting was attended by Prince Abdulaziz bin Abdulaziz, Minister of Energy; Prince Turki bin Abdulaziz, Minister of State; Dr. Majid al-Qasabi, Minister of Commerce; Adel al-Jubeir, Minister of State for Foreign Affairs; Saleh al-Jasser, Minister of Transport and Logistic Services; Faisal Alibrahim, Minister of Economy and Planning; and Saad al-Saleh, Saudi Ambassador to Poland.
Morawiecki also met with the Ukrainian ambassador to Saudi Arabia, Anatoly Petrenko.

Read more:
Saudi govt sets up new program to attract international companies
Syria could return to Arab League, but not yet: Saudi FM
UAE President meets Ukraine's First Lady, directs $4 mln aid to children of war