Vision 2030
Meet the first ever Saudi astronauts to head to the International Space Station
In a matter of weeks, Saudi Arabia will make history when it sends its first-ever astronauts to the International Space Station – including the first Arab female in space.
Ali al-Qarni and Rayyanah Barnawi - members of the inaugural Saudi national astronaut program - will part of the four-man crew Axiom-2 mission to blast off in May from the Kennedy Space Center in Florida.
For all the latest headlines follow our Google News channel online or via the app.
It comes nearly 40 years after Saudi Arabia sent the first Arab - Prince Sultan bin Salman - to space in 1985.
The two Saudi astronauts will join Axiom Space's second all-private astronaut mission to the International Space Station (ISS), marking another pivotal step toward Axiom Station, the world's first commercial space station and successor to the ISS.
Who are the Saudi astronauts?
Mission Specialists al-Qarni and Barnawi, representing the Kingdom of Saudi Arabia, will be the first Saudi astronauts to visit the ISS.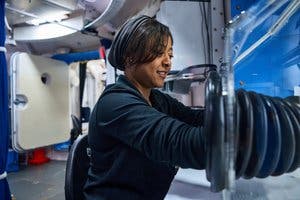 This mission represents a return to human spaceflight for Saudi Arabia and will make the Kingdom the first nation not part of the official International Space Station partnership to have two astronauts aboard the ISS at the same time.
While 263 people from 20 countries have visited the ISS, Saudi Arabia will become only the sixth nation to have two national astronauts simultaneously working aboard the orbiting laboratory.
Rayyanah Barnawi is an astronaut representing the Kingdom of Saudi Arabia and serving as a mission specialist on the Ax-2 mission. Barnawi has a Master of Biomedical Sciences from Alfaisal University and a Bachelor of Biomedical Sciences from Otago University. She is also a research laboratory technician with nine years of experience in breast cancer and cancer stem-cell research.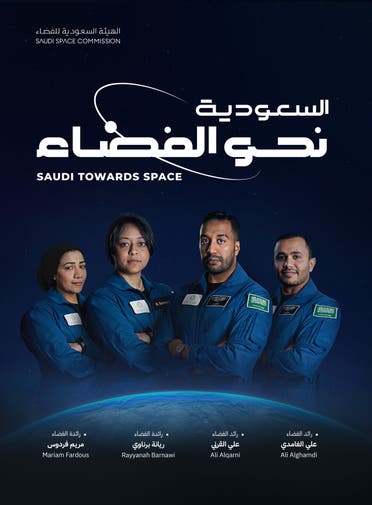 Ali al-Qarni is an astronaut representing the Kingdom of Saudi Arabia and serving as a mission specialist on the Ax-2 mission. Al-Qarni graduated with a Bachelor of Aerospace Science from King Faisal Air Academy. He is also an Air Force captain and fighter pilot. He has 12 years of experience flying fighter aircrafts and 2,387 flight hours.
In the official release shared by Saudi Arabia announcing the two Saudi astronauts on the Ax-2 mission, it stated, "This flight is an integral milestone of a comprehensive program aiming to train and qualify experienced Saudis to undertake human spaceflight, conduct scientific experiments, participate in international research, and future space-related missions contributing to the Kingdom's Vision 2030."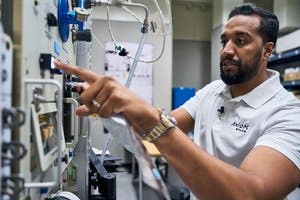 Saudi Arabia signed an agreement with Axiom Space in September of 2022 to fly two astronauts to space from the Saudi Space Commission as mission specialists on Ax-2.
Al-Qarni and Barnawi Axiom Space's Director of Human Spaceflight Peggy Whitson, a former NASA astronaut, will lead the privately funded mission, and aviator John Shoffner of Knoxville, Tennessee, will serve as pilot.
Training for space
To simulate their 12 days in space, the crew of Ax-2 have recently participated in the Human Exploration Research Analog (HERA), a training program designed to push people to the extremes.
Ax-2 crew members spent about a week inside the HERA habitat, a unique 650-square-foot three-story structure at NASA Johnson Space Center. The habitat serves as a ground-based analog for isolation, confinement, and remote conditions in exploration scenarios.
As part of HERA, the Axiom Space Mission Integration and Operations (MI&O) team planned a space mission similar to what the crew will experience on Ax-2.
Focused on completing several key objectives, crew members worked on completing tasks on their timeliness and trained on equipment and procedures they will be using when they visit the International Space Station. The crew worked through emergency scenarios and participated in team-building exercises ahead of their historic mission.
As a big focus of the mission is on inspiring students and STEAM engagement; the crew was joined a live outreach event speaking directly with the children of Axiom Space employees who asked curious questions about space and life as an astronaut.
The mission
NASA and its ISS partners recently approved the Ax-2 crew, clearing a major milestone for the four-person multi-national team to travel to the orbiting laboratory.
A SpaceX Falcon 9 rocket will launch the Ax-2 crew aboard a SpaceX Dragon spacecraft to the ISS from Launch Complex 39A at NASA's Kennedy Space Center in Florida.
Once docked, the Axiom Space astronauts plan to spend 10 days aboard the orbiting laboratory implementing a full mission comprised of science, outreach, and commercial activities.
The mission is targeted for launch in the spring of 2023 and will be the first private space mission to include both private astronauts and astronauts representing foreign governments, as well as the first private mission commanded by a woman.
"Axiom Space's second private astronaut mission to the International Space Station cements our mission of expanding access to space worldwide and supporting the growth of the low-Earth orbit economy as we build Axiom Station," said Michael Suffredini, president and CEO of Axiom Space. "Ax-2 moves Axiom Space one step closer toward the realization of a commercial space station in low-Earth orbit and enables us to build on the legacy and achievements of the ISS, leveraging the benefits of microgravity to better life on Earth."
For his part, the Saudi Space Commission's CEO Dr. Mohammed Bin Saud al-Tamimi said that embarking on human spaceflights reflects countries' "superiority and global competitiveness in many fields such as technology, engineering, research, and innovation."
"This mission is also historic as it will make the Kingdom one of the few countries in the world that brings two astronauts of the same nationality aboard the International Space Station simultaneously," al-Tamimi said.
Axiom Space is the commercial space industry's only full-service orbital mission provider conducting end-to-end crewed missions for private astronauts, both private individuals and those representing foreign governments.
Axiom Space's broad range of services – in collaboration with NASA and SpaceX – includes training and flying private astronauts, access to training facilities and instructors, hardware and safety certification, and operational on-orbit management.
Candidates for flight complete Axiom Space's rigorous training curriculum over many months in preparation to live and conduct meaningful work in space.
The expert team at Axiom Space is helping nations and organizations build human spaceflight programs, develop astronaut selection programs, and provide the expertise needed to expand the international community of space explorers to a larger and more diverse representation of humanity.
The first private astronaut mission to the ISS, Axiom Mission 1 (Ax-1), launched April 8, 2022, with four private astronauts who spent 17 days in orbit working on 26 science payloads aboard the station and conducting more than 30 STEAM educational and public outreach engagements. The crew splashed down off the coast of Florida on April 25, 2022, to conclude the historic mission.
Private astronaut missions to the ISS are a precursor to Axiom Station, the world's first private space station, part of NASA's efforts to develop a thriving low-Earth orbit ecosystem and commercial marketplace.
Read more:
Saudi Arabia to send first female astronaut to the International Space Station
The Middle East has the potential to become a leader in the global space industry
UAE astronaut Sultan al-Neyadi speaks to Dubai ruler from space