King of pop Michael Jackson's son, Prince, is not embroiled in a "royal romance" with a Kuwaiti Princess, sources told Al Arabiya on Monday.
Reports from tabloid and entertainment news sites earlier this week claimed the 16-year-old could be dating a girl said to be a Kuwaiti princess named Remi al-Falah.
But the first clue to Remi not being royalty, which doesn't appear to have been picked up by Western press, was her surname.
"Al-Faleh is not a name from the royal family," a Kuwaiti journalist, who preferred not to be named, said on Monday.
"It is a famous family name in Kuwait. And Remi al-Faleh is not a Kuwaiti princess," the journalist added.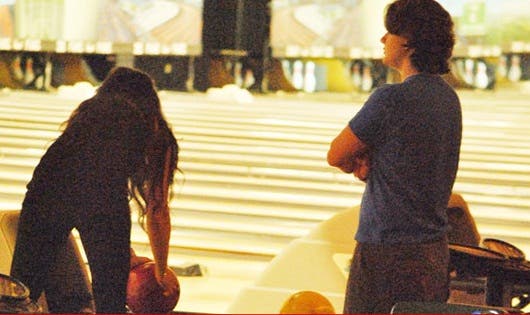 Earlier this week, TMZ entertainment site posted pictures of Prince and Remi appearing to have fun at a bowling alley and reported the images were taken Wednesday in Los Angeles.
"Remi was dropped off at the bowling alley in a black SUV ... but he drove her home," TMZ reported, adding that both Prince and Remi attend the same private school, citing a source at the Kuwaiti consulate in the U.S.
"It is said they go to school together, but that's it," the Kuwaiti journalist said, adding "I don't think it's worth all this propaganda."
News reports stating that Remi is a princess were circulated mainly by U.S. and UK press throughout the week.
Kuwaiti newspapers also reported the news, but referred to Remi as a "Kuwaiti girl," not princess, as reported in Kuwait's al-Seyassah news website on Saturday.
Meanwhile, the Kuwaiti al-Rai newspaper reported that Remi's real name is actually "Mariam."
"Remi is a nickname … Her mother is American," the newspaper stated this week, adding that official Kuwaiti sources in the foreign ministry also rebuffed allegations of her ties to the Kuwaiti royal family.
This isn't the first time a Jackson family member's ties to the Arab world have been in the news.
Earlier this year, Janet Jackson and Qatari business tycoon Wissam al-Mana announced they had wed at a "quiet, private and beautiful ceremony." Janet was trying to fight off rumors that her wedding would be a lavish $20-million affair.
Meanwhile, the late King of Pop himself also had his fair share of coverage on his ties to the Arab world.
Michael Jackson spent time in Bahrain as a guest of the royal family following his 2005 trial on child molestation charges.
In April 2006, a statement was released on behalf of Bahrain music label Two Seas Records announcing he would record a new album for release in 2007.