King Abdullah of Saudi Arabia on Tuesday condemned the Boston Marathon bombings, saying no religion or morals would condone such an attack.
In statements addressed to U.S. President Barak Obama and to the American people "the monarch expressed profound sorrow and pain for the death and injury of some innocent people as a result of the two terrorist acts in Boston," the state news agency SPA reported.
He described the perpetrators of the explosions as "belonging to no religion at all," adding that "no ethics or values ever accept this deed," according to the SPA report.
Three people were killed and more than 170 wounded in the bombings in the worst attack in the United States since the September 11, 2001 atrocities.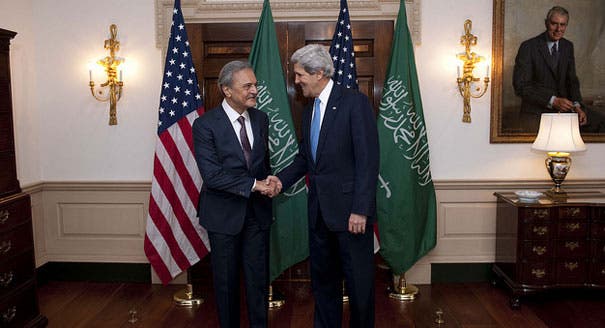 The Boston attacks came as Saudi Arabia's foreign minister, Saud al-Faisal, visited Washington, where he met Tuesday with Secretary of State John Kerry.
Prince Saud offered "our solidarity with the great people of Boston in this tragedy" and said Saudi Arabia condemned every "terrorist act."
"We have felt the evil of the act of terror. We support the families and we give our condolences to the families of Boston," he told reporters in English after the talks.
Prince Saud said that Boston was "considered one of the homes" for Saudis due to the large number who studied in the city's numerous universities. He said that the injured Saudi woman was married to a student.
"We hope she is well and we hope well to all those who have been injured," he said.
Ekmeleddin Ihsanoglu, secretary general of the Saudi-based Organization of Islamic Cooperation of 57 Muslim states, meanwhile said in a statement that "such actions targeting an event are cowardly and reprehensible."
While links to terrorist activity are rife, the event has attracted condemnation from other world leaders.
Russian President Vladimir Putin said in a condolences note published on the Kremlin's website Tuesday that the international community should come together to fight terrorism.
Putin said Russia "would be ready to provide assistance" to U.S. authorities with the probe into the bombings at the Boston marathon.
On Twitter, British Prime Minister David Cameron posted: "The scenes from Boston are shocking and horrific - my thoughts are with all those who have been affected."
British Foreign Minister William Hague also posted on Twitter: "Appalled by news of explosion at Boston marathon. My thoughts are with everyone affected by it and all those waiting for news."
U.S. President Obama vowed that those behind "will feel the full weight of justice."
"We still do not know who did this or why. But make no mistake: we will get to the bottom of this. Any responsible individual, any responsible groups will feel the full weight of justice."
According to the Telegraph, New York City Mayor Michael Bloomberg said: "As law enforcement authorities investigate today's explosions in Boston, I ask all New Yorkers to keep the victims and their families in your thoughts and prayers ... the NYPD has stepped up security at strategic locations and critical infrastructure.
"We have 1,000 members of the NYPD assigned to counterterrorism duties, and they - along with the entire NYPD and the investments we have made in counterterrorism infrastructure - are being fully mobilized to protect our city," he added.
Meanwhile, Reuters news agency reported Australian prime minister Julia Gillard as saying: "Our condolences go to the families of those killed and our thoughts are with those who have been injured. These explosions have cast a long shadow over one of the world's great sporting events."