North Korea demands to be recognized as a nuclear weapons state, a state newspaper reported on Tuesday, in a defiant show of the country refusing to agree to U.S. conditions on their nuclear arms.
The North's Rodong Sinmun newspaper rejected the U.S. and South Korean condition "as groundless and unacceptable" that it agrees to dismantle its nuclear weapons and suspend missile launches, according to a Reuters report.
"If the DPRK sits at a table with the U.S., it has to be a dialogue between nuclear weapons states, not one side forcing the other to dismantle nuclear weapons," the newspaper said, referring to the North by its official name, the Democratic People's Republic of Korea.
After weeks of tension on the Korean peninsula, including North Korean threats of nuclear war, the North has in recent days begun to at least talk about dialogue in response to calls for talks from both the United States and South Korea.
Threatening letter
The news came as South Korea's defense minister on Tuesday recieved a package containing a threatening letter and suspicious powder, in what his ministry described as an attempted act of "terror".

The parcel was delivered a day after hundreds of threatening leaflets were found scattered outside Defense Minister Kim Kwan-Jin's office.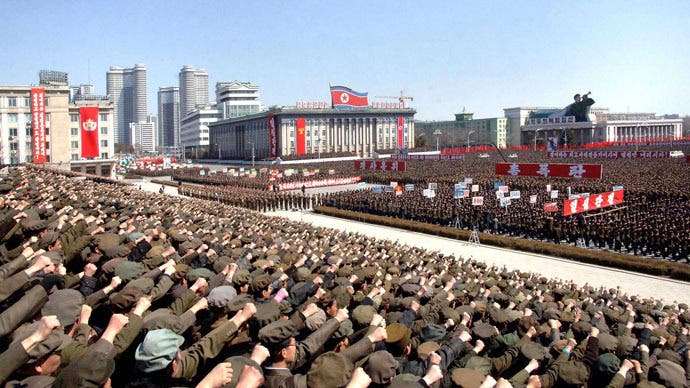 The leaflets condemned Kim for his perceived hardline stance against North Korea, which has made the minister a focus of Pyongyang's more vitriolic propaganda attacks on the South.

"The parcel contained suspicious white powder, and an investigation is under way to trace its origins," a defense ministry spokesman told AFP news agency.
It was "an attempted act of terror", the spokesman said, while stressing that the powder's contents had not been verified yet.
The Korean peninsula has been in a state of heightened military tension since the North carried out its third nuclear test in February.

Incensed by fresh U.N. sanctions and joint South Korea-U.S. military exercises, Pyongyang has spent weeks issuing blistering threats of missile strikes and nuclear war.
Earlier this month, a White House spokesman said North Korea would need to show it was serious about abandoning its nuclear ambitions for talks to be meaningful.