A man seen with bloody hands wielding a butcher knife after the killing of a British soldier on the streets of London was described as a convert to Islam who took part in demonstrations with a banned radical group, two Muslim hard-liners said Thursday.
Police raided houses in connection with the brazen slaying of the off-duty soldier, identified as Lee Rigby, of the 2nd Battalion The Royal Regiment of Fusiliers, who served in Afghanistan. In addition to the two suspects who were hospitalized after being shot by police, authorities said they had arrested a man and a woman, both 29, on suspicion of conspiracy to murder.
Police would not say whether it appeared Rigby had been targeted specifically because of his military service. Although he was not in uniform at the time he was killed, he was said by witnesses to be wearing a T-shirt for a British veterans' charity.
Authorities have not identified either of the two wounded suspects and have not said when they would do so. Officials in Britain usually wait to name suspects until charges have been filed.
Anjem Choudary, the former head of the radical group al-Muhajiroun, told The Associated Press that the man depicted in startling video that emerged after Rigby's death was named Michael Adebolajo, a Christian who converted to Islam around 2003 and took part in several demonstrations by the group in London.
The BBC broadcast video from 2007 showing Adebolajo standing near Choudary at a rally.
Omar Bakri Muhammad, who now lives in Lebanon but had been a radical Muslim preacher in London, also said he recognized the man seen on TV as Adebolajo and said he attended his London lectures in the early 2000s.
Bakri, speaking from Lebanon, said he remembers Adebolajo as a "shy person" who was keen to learn about Islam and asked interesting questions.
"He used to listen more than he spoke," Bakri said. "I was very surprised to learn that he is the suspect in the attack."
The two men suspected of killing the 25-year-old Rigby had been part of previous investigations by security services, a British official said Thursday, as investigators searched several locations and tried to determine whether the men were part of a wider terrorist plot.
There also was no clear indication on when or where the suspects may have been radicalized.
Rigby, the father of a 2-year-old boy, was slain Wednesday afternoon outside the Royal Artillery Barracks in the Woolwich area of south London while horrified bystanders watched in the busy city known for its decorum.
The bizarre scene was recorded on witnesses' cellphones, with one of the two suspects boasting of their exploits and warning of more violence as the soldier lay on the ground. Holding bloody knives and a meat cleaver, they waited for the arrival of police, who shot them in the legs, according to a passerby who tried to save the dying soldier.
Britain press demands jailing of Islamist preacher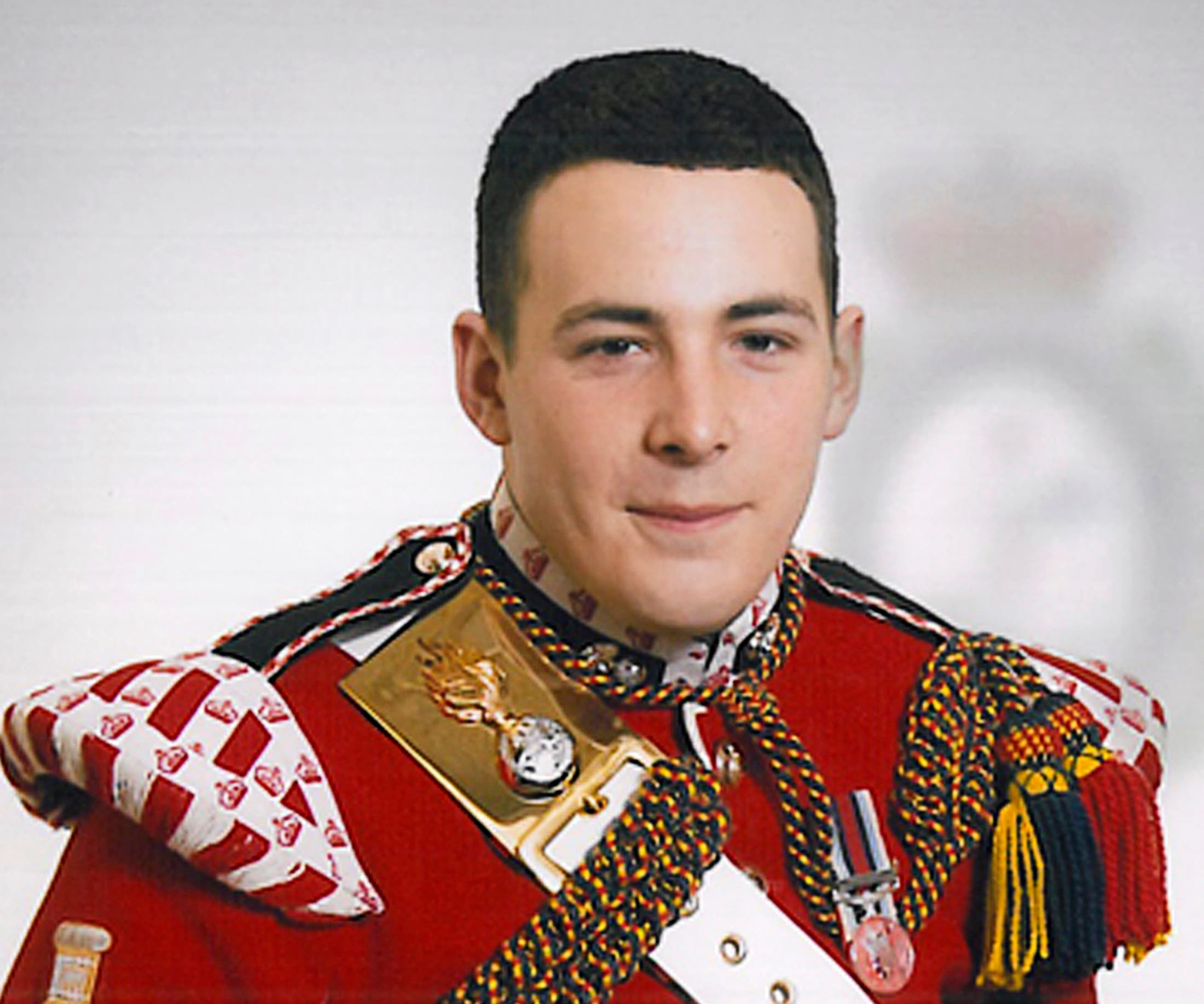 Britain's newspapers on Friday paid tribute to the soldier brutally murdered and demanded that the preacher suspected of radicalizing Adebolajo be jailed.
"Riggers...A True Warrior" said the Sun's headline.
Inside, the tabloid launched a scathing attack on Choudary. The paper branded the cleric the "epicenter of evil" and called for his prosecution.
"Choudary remains free to spew his bile – his every utterance a defiant two fingers to our anti-terror laws," it said.
"They [police] already have the powers to arrest and charge those promoting terrorism. They must stop pussy-footing around and use them."
Center-right broadsheet the Daily Telegraph criticized intelligence services, who reportedly tracked Adebolajo for eight years, asking "Why was he free to kill?" across the front-page.
The Daily Mail similarly targeted intelligence officials, calling it a "betrayal of a hero father" on its front-page.
"Most disturbing of all is the way hate-peddlers like Choudary are allowed to deliver their sermons of murder with such impunity," said the Mail's editorial.
"Why, when police, so in thrall to political correctness, are so quick to pounce on 'hate crimes' by indigenous Britons, are they so loath to prosecute the zealots who wish to see our freedoms destroyed," it added.
The left-wing Guardian praised Prime Minister David Cameron's call for calm and played down the political motivations for the murder.
"This was a truly revolting event," said its editorial. "There was no justification for it. The responsibility lies solely with those who committed it."
"Mr. Cameron's message of calm, solidarity and inclusiveness was the right one. And so, as long as he sticks to it, was his rejection of kneejerk legislative responses," it added.
The Times and Telegraph paid tribute to those at the murder scene.
"The response to the attack – and the very fact that it was so shocking and unusual an incident – was a tribute to Britain's strengths, rather than a display of its weaknesses," the Telegraph opined.
"The terrorists wanted a war. They have merely our pity, and our disgust," it added, calling for Britain's surveillance laws to be updated but also for new efforts to integrate minorities into society.
The Times singled out 48-year-old Ingrid Loyau-Kennett for particular praise after she confronted the two attackers.
"Those who showed the way were the few brave women who sought to protect his body in Woolwich, and even challenged his killers," said its leading article.
"One was Ingrid Loyau-Kennett, who, as David Cameron yesterday remarked, spoke for us all."
"'You're going to lose," she calmly told a killer intent upon stirring Britain into conflict. 'It's only you versus many.'"
"It is easy to remember that terrorism is evil. Terrorists must never be allowed to forget that it is futile too."