The mass wave of prisoner hunger strikes at Guantanamo Bay cannot be considered over, a Pentagon spokesman said on Tuesday, following an outcry over media reports suggesting the protest had largely ended.
The official statement to Al Arabiya English came after Guantanamo authorities on Monday said the number of hunger-striking prisoners had fallen in recent weeks, and that daily updates on detainees refusing food would no longer be issued.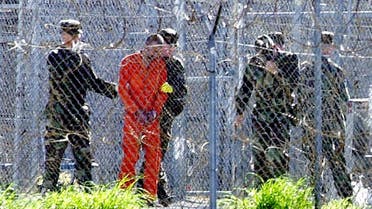 Following the statement, global media carried headlines stating the hunger strike was "largely over" or "considered over," prompting an angry response from human rights groups.
Pentagon spokesman Lt. Col. Todd Breasseale confirmed that the strike was ongoing.
"No one believes the hunger strike is over. Certainly not us," he told Al Arabiya English.
"But the numbers clearly show that the detainees' dangerous - at times nearly suicidal - hunger strike communication operation, facilitated and distorted by myth by so many outside Guantanamo, is nowhere near what it used to be."
Guantanamo authorities said, as of Monday, only 19 out of the U.S. military jail's 164 inmates remained on hunger strike. Breasseale confirmed these numbers to Al Arabiya English.

"No hunger striking detainees are in the detainee hospital," he added.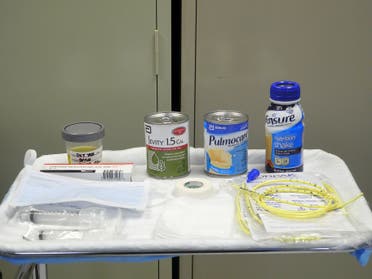 At the peak of the protest in July, a total of 106 prisoners were on hunger strike, according to Guantanamo authorities.
Earlier on Tuesday, Cori Crider, a Guantanamo attorney for Reprieve, a London-based legal action charity, hit out at claims the hunger strike wave was now considered over.
"They're still strapping twenty-odd people in chairs twice a day and forcing tubes down their noses," she told Al Arabiya English, referring to the widely-criticized forced feeding of the striking prisoners, administered via a nasogastric tube.
At the prison camp, the figure of exactly how many inmates are on hunger strike is disputed by human rights lawyers, who claim U.S. authorities are deliberately underestimating the number.
Amnesty International on Monday also criticized the idea of the hunger strike being over.
"As long as there is still one person on hunger strike, held without charge or subjected to an unfair trial, the Guantanamo crisis will continue," said Zeke Johnson, an Amnesty International director for security and human rights, according to Agence France-Presse.
In response to the criticism of the prison authorities, Breasseale said that "many of the pro-hunger strike advocates mentioned have a very puzzling standard, by which a detainee is deemed to be hunger striking after simply declaring oneself a hunger striker.
"The command group at the detention facility has a very specific measurement that is in line with the Bureau of Prisons: the number of meals skipped, in a row.
"In order to no longer be considered a hunger striker, a certain number of meals in a row must be voluntarily consumed," he added.
The strike began on Feb. 6, 2013. It came as a reaction to a cell sweep in which guards allegedly mishandled copies of the Quran.
It then swiftly grew into a mass protest against the prisoner's legal limbo.
"The vital issue is that 164 people are still held: no charge, no trial, and no hope. It's past time to send the cleared men home," says Crider.
Last month, the first transfer of Guantanamo detainees since U.S. President Barack Obama renewed his pledge in May to close the controversial jail was finalized.
Two long-held Algerian detainees, Nabil Hadjarab, 34, and Mutai Sayab, 37, were returned to their homeland. Both men had been among the first prisoners brought to Cuba soon after the George Bush administration set up the detention center in 2002.