The United States and Britain are sending several warships, including an aircraft carrier, to the typhoon-stricken Philippines, according to official announcements on Monday.
U.S. Defense Secretary Chuck Hagel has ordered the aircraft carrier USS George Washington other naval warships to the Philippines as Marines began arriving in the hardest-hit areas to joint relief efforts following the deadly typhoon.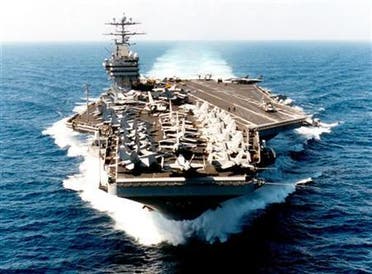 Typhoon Haiyan, considered one of the most powerful storms on record, struck six central Philippine islands on Friday, wiping away buildings and leveling seaside homes with ferocious winds of 235 kilometers per hour.
The typhoon is feared to have claimed more than 10,000 lives and more than nine million people have been affected. Many are now struggling to survive without food, shelter or clean drinking water.
The U.S. aircraft carrier, which has 5,000 sailors and more than 80 aircraft aboard, is currently in Hong Kong for a port visit, according to Agence France-Presse.
In a statement, the Pentagon said the crew is being recalled early from shore leave.
Also on Monday, British Prime Minister David Cameron announced a navy warship with equipment to make drinking water from seawater and a military transport aircraft will be sent to the Philippines.
"HMS Daring, currently deployed near Singapore, will shortly be heading at full speed towards the disaster zone with further support from an RAF (Royal Air Force) C-17 which will be a powerful help to the relief operation," Cameron told a dinner attended by business leaders in London, according to Reuters news agency.
HMS Daring is expected to reach the area in five days and the C-17 within the next few days. About 200 military personnel will be involved.
The announcements came after Gulf Arab states, the United States, Australia and the United Nations began mobilizing emergency aid to the Philippines on Monday.
Donations from Arab states include the United Arab Emirates, which has announced support and assistance programs and projects worth $10 million to the Philippines.
Saudi Prince Talal bin Abdul Aziz's Arab Gulf Program for Development announced a $100,000 donation to the victims channeled through the Philippine government.
(With Reuters and AFP)