World mourns Nelson Mandela
Former South African leader is hailed as anti-apartheid icon and champion of reconciliation
World leaders and people in many parts of the world joined in mourning former South Africa President Nelson Mandela, the anti-apartheid icon, who died at the age of 95 Thursday.
Mandela emerged from 27 years in apartheid prisons to help guide South Africa to democracy, becoming one of the world's most respected and loved figures. He was elected president in landmark all-race elections in 1994 and retired in 1999.
"Today he's gone home, and we've lost one of the most influential, courageous and profoundly good human beings that any of us will share time with on this earth," Reuters quoted U.S. President Barack Obama talking about Mandela.
Like Mandela, who became South Africa's first black president, Obama also made history when he became America's first black leader in 2008.

"He achieved more than could be expected of any man," said Obama, who is expected to go to South Africa for Mandela's state funeral. The flag over the White House was lowered to half-staff after Mandela's death.

In the UK, Prime Minister David Cameron tweeted: "Nelson Mandela was a hero of our time," "a great light has gone out in the world."
Prince William and his wife, Kate, were attending the London film premiere of "Mandela: Long Walk to Freedom" when Mandela's death was announced.

"We were just reminded of what an extraordinary and inspiring man Nelson Mandela was," the Associated Press quoted William as saying.

Mourners gathered outside Mandela's home and spontaneous tributes sprang up around the world.

The famed Apollo Theater in the Harlem neighborhood of Manhattan, which Mandela visited in 1990, lit its marquee with the words: "In memory of Nelson Mandela ... He changed our world."

In Washington, flowers and candles were set at the base of a statue of Mandela outside the South African Embassy.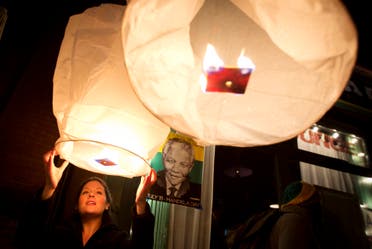 Dijon Anderson, a teacher from Bowie, Maryland, who came with his sons to pay respects, said, "I feel privileged to even say that I lived during the same time he was here."
Also, the U.N. Security Council in New York was in session when the ambassadors received news of Mandela's death. They stopped their meeting and stood for a minute's silence.
"Nelson Mandela was a giant for justice and a down-to-earth
human inspiration," Reuters quoted U.N. Secretary-General Ban Ki-moon as telling reporters.
Ki-moon added: "Nelson Mandela showed what is possible for our world
and within each one of us if we believe, dream and work together
for justice and humanity."
Nigerian President Goodluck Jonathan, leader of Africa's most populous country, said Mandela's death "will create a huge vacuum that will be difficult to fill in our continent."
In Haiti, a Caribbean nation that became the world's first black republic in 1804 through a successful slave revolt, Mandela symbolized the struggle for black equality.

"Mandela is not only the father of democracy in South Africa, but is also a symbol of democracy," the Associated Press quoted Haitian President Michel Martelly as saying. "And like any symbol, he is not dead. He is present in all of us and guides us by his lifestyle, his courage and faith in the true struggle for equality."

In Venezuela, President Nicolas Maduro declared three days of national mourning.
"Nine months since the passing of our comandante (Hugo Chavez), another giant of the people of the world passed away today. Madiba you will live forever!" Maduro said on Twitter.
Figures from the world of entertainment and sport joined in honoring Mandela.

"One of the great honors of my life was to be invited to Nelson Mandela's home, spend private time and get to know him," said actress and TV talk-show host Oprah Winfrey.
"He was everything you've ever heard and more - humble and unscathed by bitterness. And he always loved to tell a good joke. Being in his presence was like sitting with grace and majesty at the same
time."
Myanmar democracy icon Aung San Suu Kyi on Friday also paid tribute to Mandela as a "great human being" who inspired others to change the world.

"I would like to express my extreme grief at the passing away of a man who stood for human rights and for equality in this world," Agence France-Presse quoted Suu Kyi as saying of her fellow Nobel Peace laureate.
"He made us all understand that nobody should be penalized for the color of his skin, for the circumstances into which he is born. He also made us understand that we can change the world -- we can change the world by changing attitudes, by changing perceptions. For this reason I would like to pay him tribute as a great human being who raised the standard of humanity."
In China, President Xi Jinping, which supported apartheid's opponents throughout the Cold War, praised Mandela's victory in the anti-apartheid struggle and his contribution to "the cause of human progress."

For Chinese rights activists, the South African leader's death served as a reminder that one of their own symbols of freedom, Nobel Peace prize laureate Liu Xiaobo, remained imprisoned by Chinese authorities. "This moment magnifies how evil the current regime is," Beijing activist Hu Jia said.

India's Prime Minister Manmohan Singh compared Mandela to his country's own icon for the struggle for freedom, independence leader Mohandas K. Gandhi.

"A giant among men has passed away. This is as much India's loss as South Africa's. He was a true Gandhian. His life and work will remain a source of eternal inspiration for generations to come," the Associated Press quoted Singh as saying.
Others only knew Mandela from afar but shared how they drew strength from his strength and looked to live his message of continuing the struggle against social injustice and for human rights.

Former U.S. President Jimmy Carter, who promotes human rights in working through the Atlanta-based Carter Center, said the people of South Africa and human rights advocates around the world had lost a great leader.

"His passion for freedom and justice created new hope for generations of oppressed people worldwide, and because of him, South Africa is today one of the world's leading democracies," Carter said in a statement.
Carter had personal connections with Mandela. The two worked closely through a group of global leaders - The Elders - that Mandela formed in 2007 to promote human rights.
(With Reuters, AFP and AP)