Ethiopia: plane hijacker 'medically sane'
The government said the incident in which a co-pilot hijacked his own plane was 'beggars belief'
The co-pilot of an Ethiopian Airlines flight who hijacked his aircraft on Monday was "medically sane," Ethiopia's government has said, describing the incident is "beggars belief."
Information Minister Redwan Hussein named the hijacker as 31-year-old Hailemedehin Abera Tagegn, and said he had been working with the national carrier for five years and had no criminal record.
"So far it is known that he was medically sane, until otherwise is proven through the investigation which is going on right now," the minister told reporters, according to AFP.
"So the intention, what forced him to hijack his own plane, still beggars belief... any political, social or economic reason would not make sense to hijack your plane and be a criminal," he said.
"We don't see any criminal record... and there was no reason for him to be prosecuted so there was no reason for him to flee," he added.
The minister said the passengers included 139 Italians, 11 Americans, 10 Ethiopians as well as nationals from Nigeria, Romania, France, Ireland, Germany and other countries.
Hailemedhin had surrendered to Swiss authorities in Geneva on Monday after commandeering his aircraft to seek asylum in Switzerland, police said.
After landing, Hailemedhin left the aircraft via a cockpit window, without harming passengers or crew, police spokesman Pierre Grangean told a news conference. He was not carrying a weapon.
"Just after landing, the co-pilot came out of the cockpit and ran to the police and said, 'I'm the hijacker.' He said he is not safe in his own country and wants asylum," Grangean said.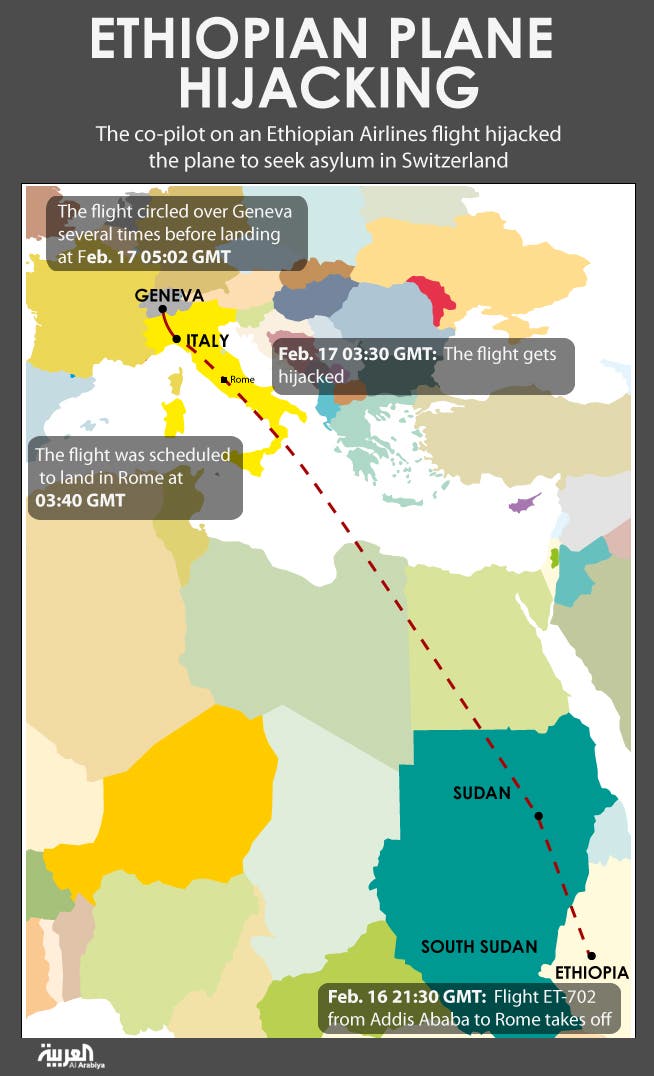 The opposition and rights campaigners in Ethiopia accuse the government of stifling dissent and torturing political detainees. But it is rare for state officials and employees - Ethiopian Airlines is run by the state - to seek asylum. The last senior official to do so fled to the United States in 2009.
The information minister said Ethiopia may ask for his extradition.
Ethiopian Airlines pilots had visas to travel freely to Europe, he said, adding that it made no sense to hijack one's own plane given "that the anti-hijacking law in any country is severe" and can lead to up to 20 years in prison, according to Reuters.
Redwan said among the 193 passengers on board the Boeing aircraft were 139 Italians, 11 American and four French nationals. As the left the plane, police the passengers as they held their hands on their necks, a Reuters witness said.
Code "hijack"
Flight ET702 departed the Ethiopian capital Addis Ababa on Sunday evening and was bound for Rome. The plane was hijacked at about 0330 GMT while over northern Italy, Grangean said. It landed at Geneva at 6:02 a.m. (0502 GMT), Reuters reported.
He said the co-pilot, an Ethiopian born in 1983, locked the flight deck door when the pilot went to the toilet. He then asked to refuel at Geneva, landed the plane, climbed down on an emergency exit rope from a cockpit window, and gave himself up.
Robert Deillon, CEO of Geneva airport, said air traffic controllers learnt the plane had been hijacked when the co-pilot keyed a distress code into the aircraft's transponder.
"There is ... a code for hijack. So this co-pilot put in the code for 'I just hijacked the aircraft'," he said. As the plane was over Italy at the time, two Italian Eurofighters were scrambled to accompany it, he said.
The brief drama in Geneva on Monday morning caused the cancellation of some short-haul flights and some incoming flights were diverted to other airports. Hundreds of passengers booked on disrupted flights sought to change their tickets.
In an apparent recording of a radio communication between the Ethiopian plane and air traffic control posted on social media site Twitter, a demand for asylum was made.
"We need asylum or assurance we will not be transferred to the Ethiopian government," the voice in the recording, apparently the co-pilot, said.
Reuters could not independently verify the authenticity of the recording.
Ethiopian nationals and the country's flag carrier have been involved in several hijackings in the past. At least 50 people were killed when a hijacked Ethiopian Airlines passenger jet crashed in the Indian Ocean in 1996.
[With AFP and Reuters]