Ukraine: 25 killed, 241 injured in Kiev clashes
Victor Yanukovich said members of the anti-government opposition had crossed a line when they called on their supporters to bring weapons to the demonstration
As thick black smoke rose from the barricades encircling the protest camp in central Kiev on Wednesday, the Ukrainian president blamed opposition leaders for the deadly violence that erupted between riot police and protesters in the capital in which at least 25 people died and 241 were injured.

The violence on Tuesday was the worst in nearly three months of anti-government protests that have paralyzed Ukraine's capital in a struggle over the identity of a nation divided in loyalties between Russia and the West, and the worst in the country's post-Soviet history.

Amid cries of "Glory to Ukraine!" and with flaming tires lighting up the night sky, thousands of riot police armed with stun grenades and water cannons attacked the sprawling protest camp in the center of Kiev. With the boom of exploding stun grenades and fireworks nearly drowning out his words at times, opposition leader Vitali Klitschko urged overnight the 20,000 protesters to defend the camp on Independence Square that has been the heart of the protests.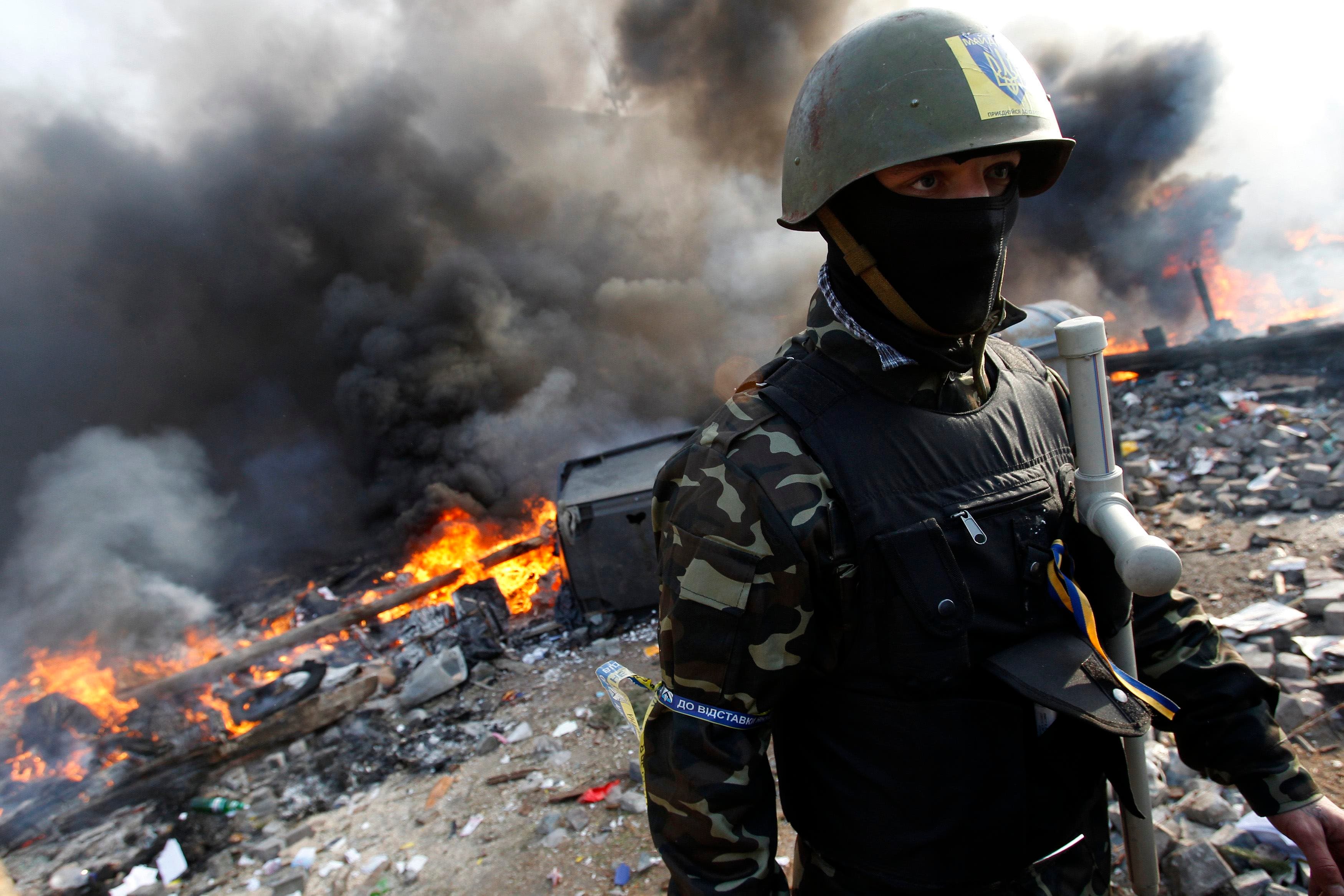 "We will not go anywhere from here," Klitschko, a former heavyweight boxing champion, told the crowd, speaking from a stage in the square as tents and tires burned around him, releasing huge plumes of smoke. "This is an island of freedom and we will defend it," he said.

Early on Wednesday, many were still heeding his call.

"I am not going to sit and wait while they kill me," said 32-year-old Anton Rybkovich. "I'm going to attack. The more force the government uses, the more harsh our response will be."

About 10,000 people remained on the square as piles of rubber tires continued to burn. A large building that the protesters had used as a headquarters caught fire and had been abandoned during the night, as police used loudspeakers to urge women and children to leave the square because an "anti-terrorist" operation was under way.

President Viktor Yanukovych said that opposition leaders "crossed a line when they called people to arms."

"I again call on the leaders of the opposition ... to draw a boundary between themselves and radical forces which are provoking bloodshed and clashes with the security services," the president said in a statement. "If they don't want to leave (the square) - they should acknowledge that they are supporting radicals. Then the conversation with them will already be of a different kind."

His defiant tone left few with hope of compromise after a night of violence, the worst in the country's post-Soviet history.

As the street battles grew to a fever pitch late on Tuesday, the protesters appeared to sense that Ukraine's political standoff was reaching a critical turning point. Waving Ukrainian and opposition party flags, they shouted "Glory to Ukraine!" and sang the Ukrainian national anthem.

Shortly before midnight, Klitschko headed to Yanukovych's office to try to resolve the crisis. He returned to the square early Wednesday without reaching any agreement on ending the violence. Klitschko told reporters that he had asked the president to stop the police action to clear the square and prevent further deaths, but Yanukovych's only proposal was that the demonstrators have to go home and stop the protests.

"I am very unhappy because there was no discussion," Klitschko said. "They don't want to listen."

Klitschko urged the protesters and police to stop the escalation of violence, and said opposition leader Arseniy Yatsenyuk was trying to arrange for more negotiations with Yanukovych later Wednesday, although Yanukovych's statement made no mention of an imminent meeting with opposition leaders.

The violence began Tuesday when protesters attacked police lines and set fires outside parliament, accusing Yanukovych of once again ignoring their demands. Parliament, dominated by his supporters, was stalling on taking up a constitutional reform to limit presidential powers.

Tensions had soared after Russia said Monday that it was ready to resume providing the loans that Yanukovych's government needs to keep Ukraine's ailing economy afloat. This raised fears among the opposition that Yanukovych had made a deal with Moscow to stand firm against the protesters and would choose a Russian-leaning loyalist to be his new prime minister.

The protests began in late November after Yanukovych turned away from a long-anticipated deal with the European Union in exchange for a $15 billion bailout from Russia. The political maneuvering continued, however, with both Moscow and the West eager to gain influence over this former Soviet republic.

Until Monday, the government and the opposition had appeared to be making some progress toward resolving the political crisis peacefully. In exchange for the release of scores of jailed activists, protesters on Sunday vacated a government building that they had occupied since Dec. 1.

Russia also may have wanted to see Kiev remain calm through the Winter Olympics in Sochi, so as not to distract from President Vladimir Putin's games. But after the outburst of violence against riot police, Yanukovych's government may have felt it had no choice but to try to restore order.

While Kiev and western Ukraine have risen up against Yanukovych, he remains popular in the Russian-speaking eastern and southern regions, where economic and cultural ties with Russia are strong.

As darkness fell Tuesday, law enforcement agencies vowed to bring order to the streets and they shut down subway stations in the center of the capital. In Independence Square, Orthodox priests prayed for peace.

"We see that this regime again has begun shooting people; they want to sink Ukraine in blood. We will not give in to a single provocation," Yatsenyuk told the protesters. "We will not take one step back from this square. We have nowhere to retreat to. Ukraine is behind us, Ukraine's future is behind us."

As angry protesters outside parliament hurled stones at police and set trucks blocking their way on fire, riot police retaliated with stun grenades and fired what appeared to be small metal balls, as smoke from burning tires and vehicles billowed over Kiev.

The coordinator for the opposition's medical response team, Oleh Musiy, said more than 400 protesters were injured. He also claimed that about 20 had died, but this could not independently be confirmed.

One of the civilians was found dead after protesters stormed the office of the president's Party of Regions. Police pushed them away, but when firefighters arrived to put out a fire, they discovered the body of an office employee, Kiev's emergency services said.

Justice Minister Olena Lukash, a close Yanukovych aide, accused the opposition of violating earlier agreements with the government and blamed protest leaders for the violence.

In Washington, Vice President Joe Biden expressed his "grave concern" in telephone call to Yanukovych, urging him to pull back government forces and exercise maximum restraint. The White House said Biden also called on Ukraine's government to address the protesters' "legitimate grievances" and put forward proposals for political reform.

Earlier, U.S. Secretary of State John Kerry urged both sides to end the violence, halt their ultimatums and hold high-level talks.

U.S. Ambassador Geoffrey R. Payatt also threatened both sides with sanctions. "We believe Ukraine's crisis can still be solved via dialogue, but those on both sides who fuel violence will open themselves to sanctions," Payatt said on Twitter.

Germany has refused to back Washington's calls for sanctions against Ukraine's government to pressure it into accepting opposition demands for reforms.

But when central Kiev exploded in violence Tuesday, German Foreign Minister Frank-Walter Steinmeier said Ukrainian security forces have a "particular responsibility" to de-escalate the situation, adding that the EU might resort to unspecified sanctions against individuals. "Whoever is responsible for decisions that lead to bloodshed in the center of Kiev or elsewhere in Ukraine will need to consider that Europe's previous reluctance for personal sanctions must be rethought," he said.

The Russian Foreign Ministry blamed the West for the escalation of the violence and called on the opposition to work with the government to find a way out of the crisis.

"What is happening is a direct result of the conniving politics of Western politicians and European bodies," the ministry said in a statement.

U.N. Secretary-General Ban Ki-moon expressed shock at the escalating and "unacceptable" violence and called for "the immediate renewal of genuine dialogue leading to rapid results," U.N. spokesman Martin Nesirky said. "Preventing further instability and bloodshed is a paramount priority."