Putin denies Russian forces operating in Crimea
Ousted Ukrainian leader Viktor Yanukovich's had requested Putin use the Russian military to restore order
Russian leader Vladamir Putin said on Tuesday in his first news conference since Ukraine ousted president Viktor Yanukovish fled Kiev, that the armed groups which seized power in Crimea were "local forces of self-defense," and not Russian soldiers.
In his staments, he also reassured that Russia would not provoke separatist movements in the area.
Speaking of the future of Ukraine, Putin said that its people should be able to choose their future on a level playing field. He added, however, that Yanukovich is still Ukraine's legitimate president, even though he has no actual power. He also called the ousting of the Ukranian president an unconstitutional coup.
Infographic: Russia and Ukriane's military strength compared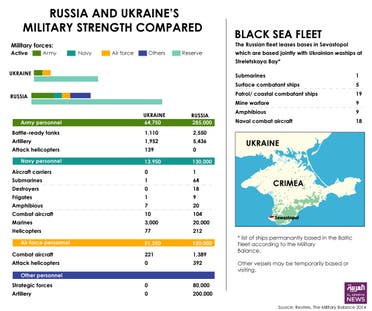 While the Russian leader said the Ukrainian people wanted change, he said that "illegal change" cannot be encouraged.
Putin, who has attracted international criticism for his bloodless invasion of Ukraine, said that using force in the country is a choice of last resort but added firmly that Russia had the option to do so.
In his statements, he also reiterated that Russia will continue to provide financial aid to Ukraine's southern region of Crimea.

Return of the troops
Meanwhile, Putin ordered troops that took part in military exercises this week to return to base, Russian news agencies quoted the Kremlin spokesman as saying, according to Reuters news agency
The military exercises, which Moscow denied were linked to events in Ukraine, had been a success, Dmitry Peskov said on Tuesday.
The exercises took place across western Russia, an area which borders Ukraine.
The decision comes despite ousted leader Viktor Yanukovich's letter to Putin requesting that he use the Russian military to restore law and order in Ukraine.
"Under the influence of Western countries, there are open acts of terror and violence," Russian Ambassador Vitaly Churkin quoted the letter from Yanukovich to Putin in an emergency meeting of the U.N. Security Council.
"People are being persecuted for language and political reasons," he quoted the letter as saying.
"So in this regard I would call on the President of Russia, Mr. Putin, asking him to use the armed forces of the Russian Federation to establish legitimacy, peace, law and order, stability and defending the people of Ukraine."
Churkin held up a copy of the letter for council members to see.
No solution in sight
Meanwhile, German Foreign Minister Frank-Walter Steinmeier said no "solution is in sight" on the Ukraine crisis, after a "difficult" talk in Geneva with Russian counterpart Sergei Lavrov.

"I had a difficult, long and very serious talk but it wasn't enough to say that a solution is in sight," Steinmeier told reporters after the meeting with Lavrov late Monday, according to Agence France-Presse.

"I can't run up a flag to say that we are on the way to finding a solution and that Ukraine and Russia are about to start talking."


(With Reuters and AFP)