Report: Fragments from missing jet found
Possible discovery takes place amid international intelligence agencies investigating into two passengers who boarded the aircraft with stolen passports
A Vietnamese search team claimed to have found on Sunday fragments of the Malaysia Airlines liner that went missing on Saturday with 239 people on board, the Wall Street Journal reported, citing Vietnamese sources.
Officials said that they found a piece of an aircraft's door and a section of the tail, Vietnam's ministry of information and communication said on its website.
The fragments were located around 50 miles south-southwest of the Tho Chu Islands off Vietnam's coast, the newspaper added.
An anonymous source had said earlier on Sunday that a team of investigators had narrowed the focus of their inquiries on the possibility that it disintegrated in mid-flight, Reuters reported.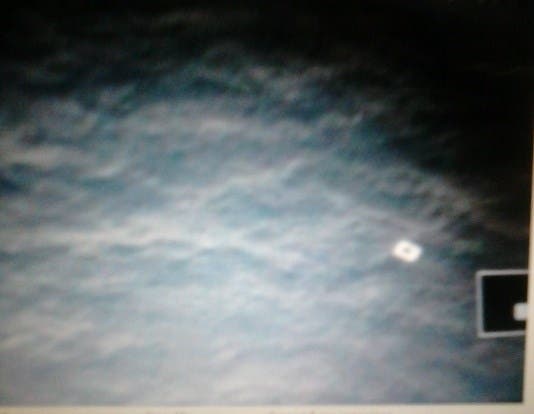 "The fact that we are unable to find any debris so far appears to indicate that the aircraft is likely to have disintegrated at around 35,000 feet," said the source, who is involved in the investigations in Malaysia.
Earlier, U.S. officials told The Los Angeles Times that they are trying to determine whether there was any terror link to what caused Flight 370 to go missing as it carried 239 people from Kuala Lumpur toward Beijing.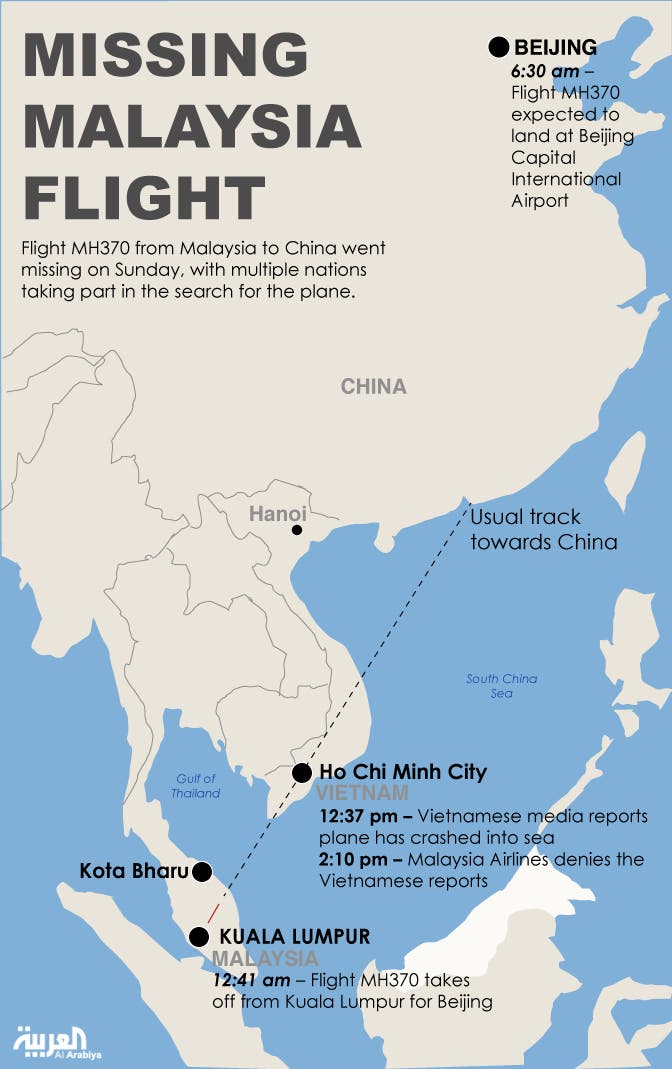 The fact that at least three of the passengers are believed to be Americans "gives us entree" to the case," a top federal law enforcement official told the newspaper.
"But so far, what happened is a mystery."
FBI agents stationed at the American Embassy in Kuala Lumpur, including an FBI legal attache, were monitoring the situation closely, a U.S. official told CNN.
Asked to confirm the reports, an FBI spokesman only replied: "We are ready to assist if needed."
Terror link
Also on Sunday, Interpol said no country checked its database that held information about two stolen passports that were used to board, critizing the shortcomings of national passport controls.
Meanwhile, Malaysia is looking at a possible terror link in the disappearance of the airliner believed to have gone down in the sea with 239 people aboard, the country's transport minister said Sunday.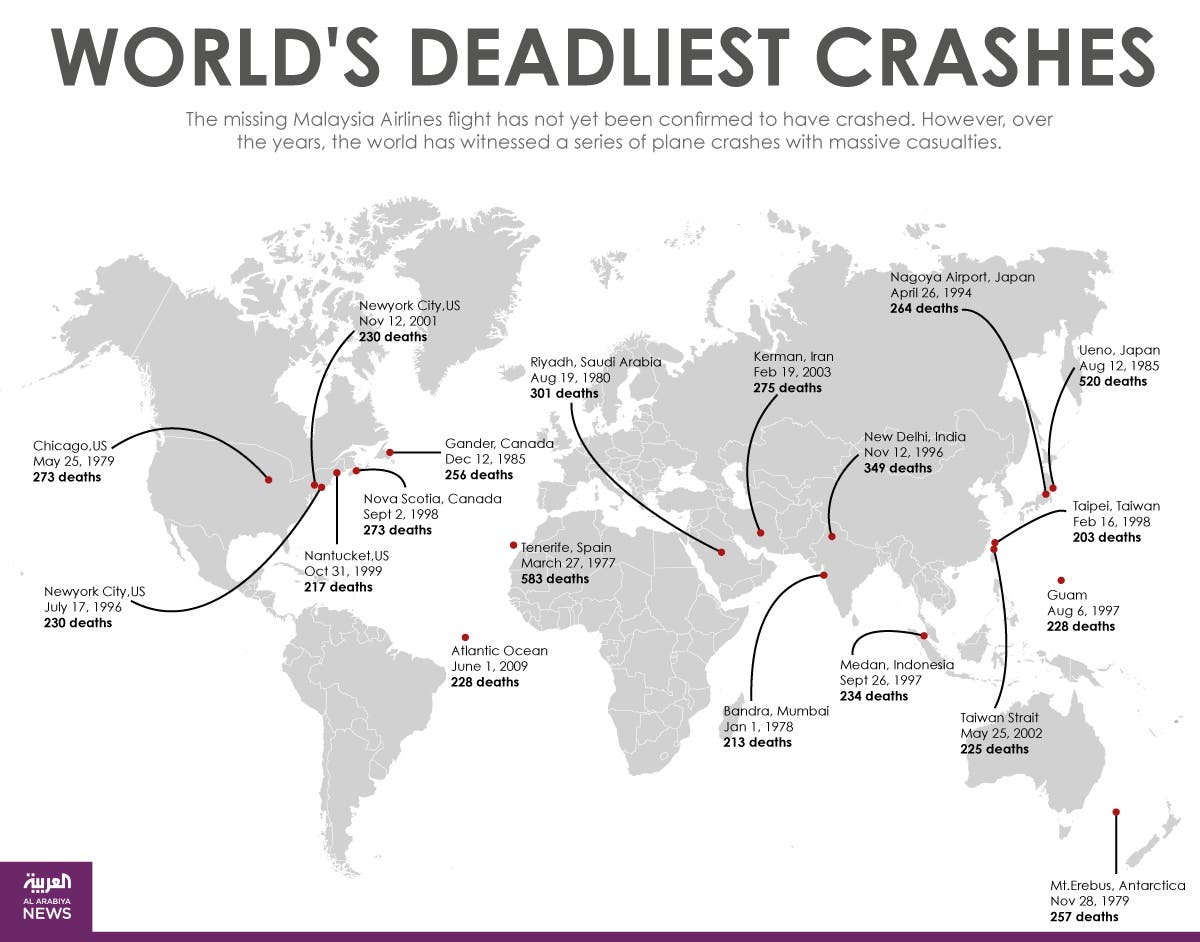 Malaysian security agencies are investigating after it was discovered that two passengers may have boarded missing Malaysia Airlines flight MH370 using stolen passports, raising fears of potential terrorism, Transport Minister Hishammuddin Hussein said.
"All the four names are with me," Hishamuddin, who is also defense minister, said.
"I have indicated to our intelligence agencies and I have also spoken to international intelligence agencies for assistance," he added.

"We are looking at all possibilities," he said. "We cannot jump the gun. Our focus now is to find the plane."
In a similar development, Malaysian Airlines said it was "fearing the worst" for its plane carrying 239 people that went missing more than 24 hours ago, Reuters news agency reported.
There were no confirmed signs of the plane or any wreckage on Sunday, well over 24 hours after it went missing. Search operations continued through the night, officials said.

"In fearing for the worst, a disaster recovery management specialist from Atlanta, USA, will be assisting Malaysia Airlines in this crucial time," the airline said in a statement.
Uncertainties
Military radar indicated that the missing Boeing 777 jet may have turned back before vanishing, Malaysia's air force chief said.
The revelations add to the uncertainties surrounding the final minutes of flight MH370, which lost contact with ground controllers somewhere between Malaysia and Vietnam after leaving Kuala Lumpur early Saturday morning for Beijing.
Vietnamese naval boats sent from the holiday island of Phu Quoc patrolled stretches of the Gulf of Thailand, searching for any wreckage, scouring the area where an oil slick was spotted by patrol jets just before nightfall on Saturday.

"Our two rescue boats have approached the two oil spills since 3 a.m. today but we haven't found any sign of the Malaysian plane yet. Other boats are ready to go to support if needed," Admiral Ngo Van Phat told Reuters.
There were no reports of bad weather and no sign of why Flight MH370 would have vanished from radar screens off the coast of Vietnam about an hour after it took off from Kuala Lumpur bound for Beijing early on Saturday morning.

There were no indications of sabotage nor claims of an attack.
Two Europeans
The passenger manifest issued by the airline included the names of two Europeans - Austrian Christian Kozel and Italian Luigi Maraldi - who, according to their foreign ministries, were not on the plane.

"Our embassy got the information that there was an Austrian on board. That was the passenger list from Malaysia Airlines. Our system came back with a note that this is a stolen passport," a foreign ministry spokesman in Vienna said.

Austrian police had found the man safe at home. The passport was stolen two years ago while he was travelling in Thailand, the spokesman said.

The foreign ministry in Rome said no Italian was on the plane either, despite the inclusion of Maraldi's name on the list. His mother, Renata Lucchi, told Reuters his passport was lost, presumed stolen, in Thailand in 2013.

U.S. and European security officials said that there was no proof of foul play and there could be other explanations for the use of stolen passports.
Relatives and compatriots
The families of missing Chinese passengers and web users across the country expressed fears for their relatives and compatriots on board missing Malaysia Airlines flight MH370.

More than 24 hours after the airplane vanished from radar screens, the disappearance was the top topic on Sina Weibo, a Chinese equivalent of Twitter, according to AFP.

More than half of the passengers on board were Chinese citizens, according to the airline.
Meanwhile, the UAE's president, Sheikh Khalifa Bin Zayed al-Nahyan, sent a message of condolence to the king of Malaysia, Abdul Halim Mu'adzam Shah, and Chinese President Xi Jinping, following the incident.
Worst disaster
If the loss of the aircraft is confirmed it would be one China's second worst air disaster, and the worst globally since 2001.

A widely circulated post on China's hugely popular messaging app WeChat read:
"MH370, we hope the radar can see you. If you copy, keep flying at your current height until you reach your destination.

"We'll clear the way for you. Everybody is more than happy to let you be the first to land.

"The sky is clear, with temperature in Beijing at five degrees Celsius, a little bit cold. Please wear your coats to keep warm.

"Remember to hug your family and friends after you disembark. They love you, they really do."
Lack of information
Malaysia Airlines has dispatched teams of counsellors and staff to help, but several family members have criticised its handling of the disappearance and a lack of information.

A middle-aged woman who gave her surname as Nan held back tears as a pack of reporters surrounded her.

Her husband's brother was on the flight, returning from a business trip, and she took a train to Beijing from Shanghai after she found out on Saturday afternoon.

"The airline company didn't contact me, it was a friend," she said. "I can't understand the airline company. They should have contacted the families first thing.

"I don't have any news. I'm very worried, my family member was there."

Another middle-aged woman, Peng Keqing, told reporters that her husband's sister, who had been working in Singapore, was on board.

"We've just been waiting," she said. "We arrived last night. We didn't get any direct notice, I checked the information online."
(With AFP and Reuters)