U.N. report: More than 2.2 billion people 'poor or near-poor'
The report found that nearly 1.5bn people in 91 developing states live in poverty
More than 2.2 billion people are "poor or near-poor", with financial crises, natural disasters, soaring food prices and violent conflicts threatening to exacerbate the problem, a United Nations report said Thursday.
While poverty is in decline worldwide, growing inequality and "structural vulnerabilities" remain a serious threat, said the report by the United Nations Development Program (UNDP), released in Tokyo.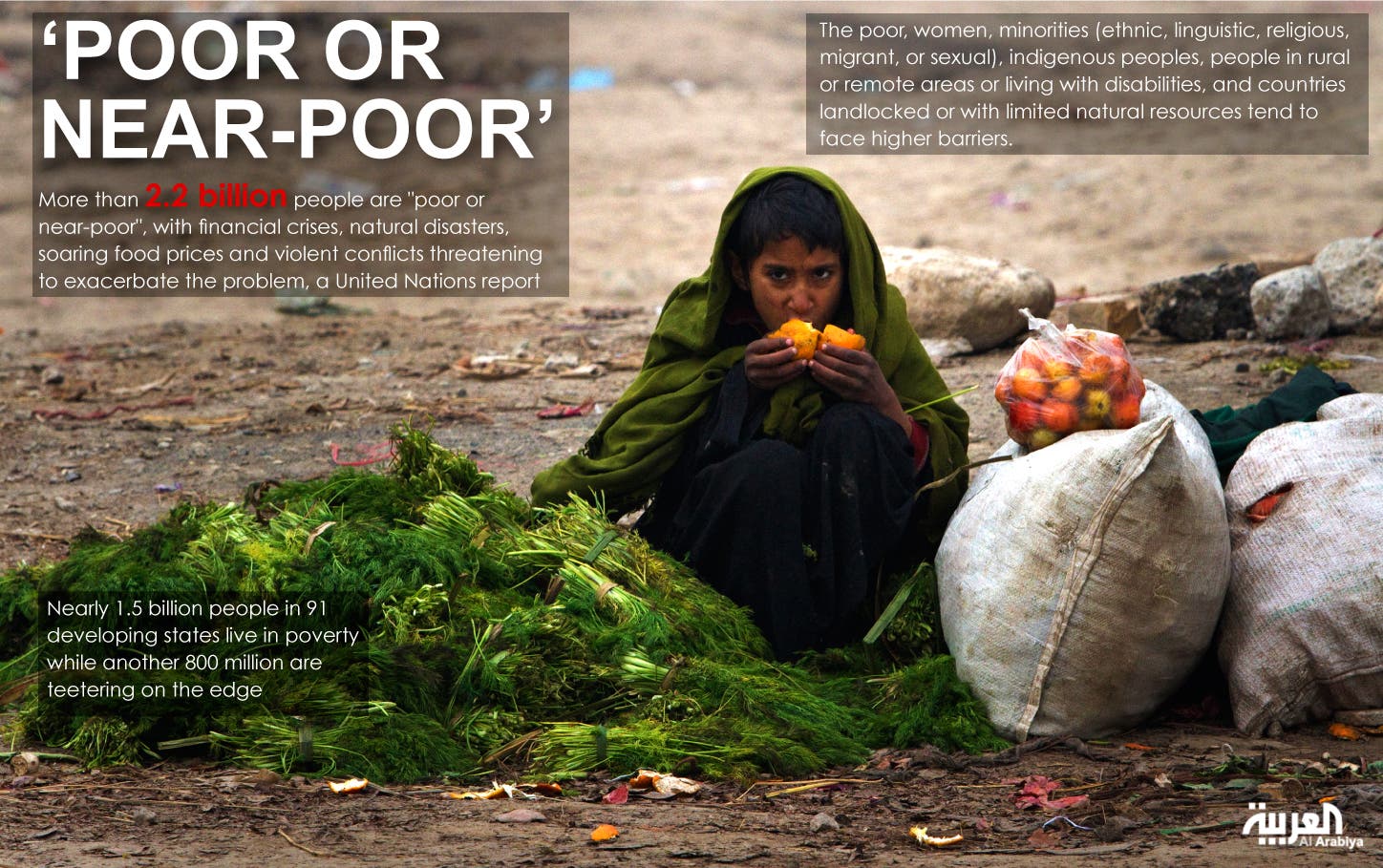 Nearly 1.5 billion people in 91 developing states live in poverty while another 800 million are teetering on the edge, it found.
"Eliminating extreme poverty is not just about 'getting to zero'; it is also about staying there," said the agency's 2014 Human Development Report.
"Those most vulnerable to natural disasters, climate change and financial setbacks must be specifically empowered and protected.
"Making vulnerability reduction central in future development agendas is the only way to ensure that progress is resilient and sustainable," it added.
The report, entitled "Sustaining Human Progress: Reducing Vulnerabilities and Building Resilience", called for making basic social services available to all and putting full employment at the top of the development agenda.
"Providing basic social security benefits to the world's poor would cost less than two percent of global GDP (gross domestic product)," it said.
"A basic social protection package is affordable so long as low-income countries reallocate funds and raise domestic resources, coupled with support by the international donor community."
About 1.2 billion people survive on the equivalent of $1.25 or less per day, the report found.
"If you are poor, you are less able to handle several shocks; you may also be disabled, you may also be older. So you have more layers of things against you," Khalid Malik, the report's lead author, told reporters ahead of its release on Thursday.
Key to dealing with the problem was focusing government policy on jobs and social safety nets, the report said.
"Structural vulnerabilities are often manifested through deep inequalities and widespread poverty," it said.
"The poor, women, minorities (ethnic, linguistic, religious, migrant, or sexual), indigenous peoples, people in rural or remote areas or living with disabilities, and countries landlocked or with limited natural resources tend to face higher barriers.
"Unemployment tends to be associated with an increase in crime, suicide, violence, drug abuse and other social problems. Therefore, the social benefits of a job far exceed the private benefit -- the wage."
UNDP chief Helen Clark and Japanese Prime Minister Shinzo Abe were set to deliver speeches in Tokyo on Thursday following the report's launch.
"By addressing vulnerabilities, all people may share in development progress and human development will become increasingly equitable and sustainable," Clark said in a statement accompanying the report.