Turkey votes in landmark presidential poll
The country's first-ever direct presidential election is expected to sweep Prime Minister Erdogan to victory
Turks voted in their country's first presidential election on Sunday with Tayyip Erdogan poised to win and fulfil his dream of what he calls a "new Turkey" and what his opponents say will be an increasingly authoritarian
nation.
More than 165,000 polling stations polling stations across Turkey closed at 1400 GMT and the results are due to be available a few hours later.
A recent survey found that Erdogan would win in the first round with 57 percent of the vote against his rivals - the main opposition candidate Ekmeleddin Ihsanoglu and Kurdish candidate Selahattin Demirtas.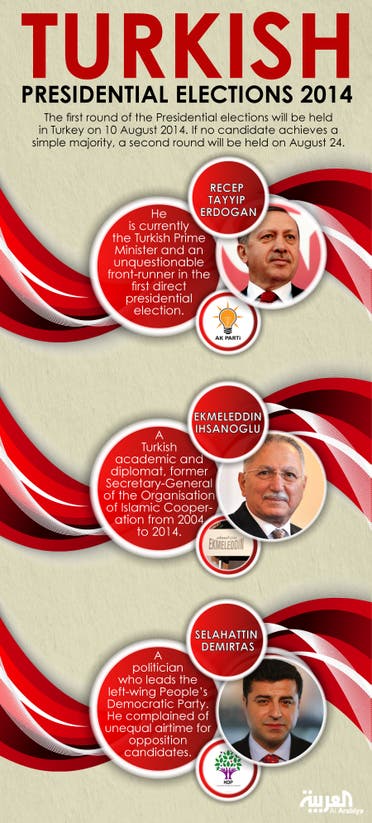 Erdogan on Saturday spoke to tens of thousands of supporters with a call for a strong and new Turkey, as he held his final rally ahead of the polls.
"You elected the people's party on November 3 (2002) and God willing, you will elect the people's president tomorrow," Erdogan said in Konya, Agence France-Presse reported.
In his final rally, Erdogan vowed he would raise Turkey's democratic standards and economic record to create a "world leader and global power."
He also boasted Turkey's foreign policy would be "more proactive" under his tenure.
"We will be the advocate of justice in the world," he said.
He has called for constitutional changes after the 2015 general election to give the presidency U.S.-style executive powers.
Erdogan looks set to continue more than a decade in power, although this time is hopeful to become less of a ceremonial figure than Abdullah Gul, the current outgoing head of state.
Erdogan's ruling party has presided over a dynamic economy having won every election since it came to power in 2002.
"God willing a new Turkey will be established tomorrow. A strong Turkey will be born out of its ashes once more tomorrow," Erdogan told cheering loyalists in the conservative central Anatolian city of Konya.