U.S. hospital worker contracts Ebola, protocol breach blamed
The U.S. government has ordered five airports to start screening passengers from West Africa for fever
A Texas health worker who provided care for the first person diagnosed with Ebola in the United States has tested positive for the deadly virus in a preliminary examination, a state health official said on Sunday.
Top U.S. health authorities said a breach of protocol was to blame for the infection of the worker who was said to have worn protective gear.
The health care worker at the Texas Health Presbyterian Hospital reported a low-grade fever Friday night and was isolated and referred for testing, the Texas Department of State Health Services said in a statement.
"We knew a second case could be a reality, and we've been preparing for this possibility," said Dr. David Lakey, commissioner of the health service.
The first person in the United States diagnosed with Ebola, Liberia citizen Thomas Eric Duncan, died in an isolation ward of the Dallas hospital on Oct. 8, 11 days after being admitted.
After Texas hospital officials announced that the worker had worn a mask, shield and gloves during her encounter with the patient, Thomas Eric Duncan -- who died Wednesday -- the head of the U.S. Centers for Disease Control and Prevention, Tom Frieden, said he was alarmed by the hospital's failure to report a problem.

"I think the fact that we don't know of a breach in protocol is concerning because clearly there was a breach in protocol," Frieden told CBS Face the Nation.

"We have the ability to prevent the spread of Ebola by caring safely for patients," he said.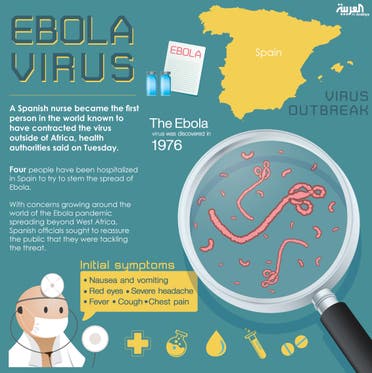 The female health worker represents the first case of Ebola infection on U.S. soil, and she is the second person to be diagnosed outside Africa States with the illness.
The number of people known to have died in the worst Ebola outbreak on record has risen to 4,033 out of 8,399 cases in seven countries, the World Health Organization said on Friday.
Liberia has been the worst affected country with 2,316 victims, followed by 930 in Sierra Leone, 778 in Guinea, eight in Nigeria and one in the United States, WHO said.
The U.S. government ordered five airports to start screening passengers from West Africa for fever.