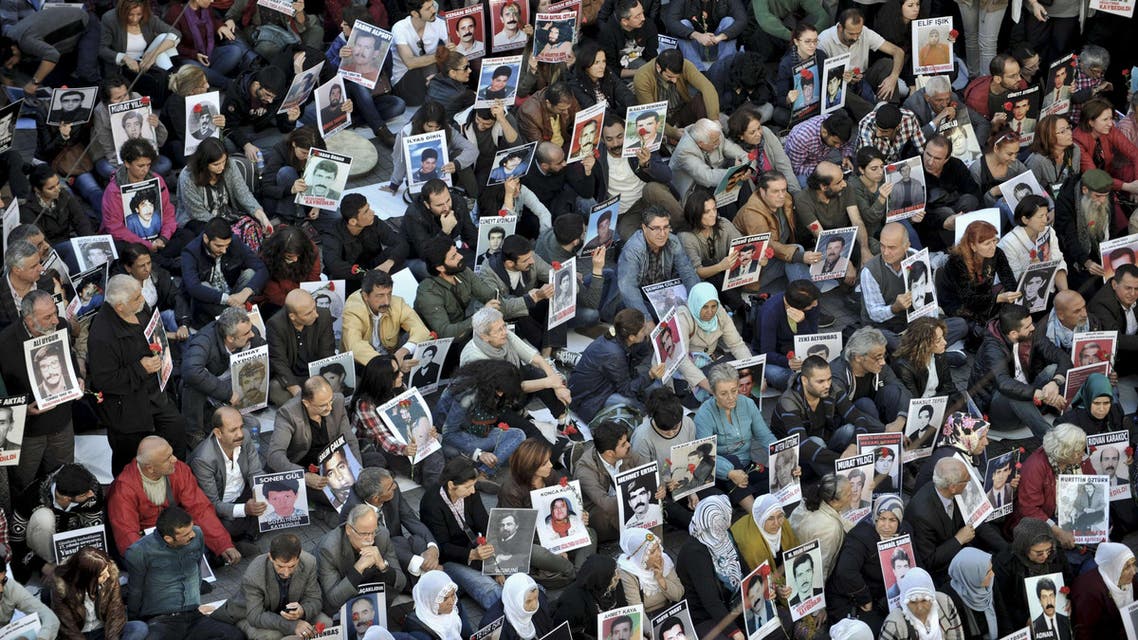 Turkish mothers hold 500th protest for missing relatives
The Saturday Mothers group is demanding a full opening of the state archives to uncover what happened to their loved ones
A group of Turkish mothers on Saturday led their 500th protest since the mid-1990s remembering relatives who disappeared allegedly at the hands of the state during one of modern Turkey's most turbulent periods.

Around 3,000 people turned out to support the protest, held as always on the bustling Istiklal avenue in central Istanbul, an AFP photographer reported.

The group, known as the "Saturday Mothers" for the timing of their weekly protest, has been holding the action on Saturday mornings since May 27, 1995.

Seated on the street outside the gates of Galatasaray University, they held placards with the faces of their relatives who disappeared in the 1980s and 1990s and are believed to have died in police and army detention.

The disappearances happened at the peak of the rebellion by the Kurdistan Workers Party (PKK) demanding self-rule in the mainly Kurdish southeast.

Around 40,000 people lost their lives in the three-decade insurgency but activists say the state has never properly investigated the fate of those who disappeared after being detained by the authorities.

The country was also wracked by political instability and violence following the 1980 military coup, with many detained for political activism.

"Bahri Budak, 61 years old, disappeared after being detained in April 1994," read the words on a picture held by a woman at the protest.

The group were unable to hold their protests for a decade from 1999 to 2009 due to repeated police interventions but they have now resumed. Police looked on at Saturday's latest protest, without intervening.

Similar events marking the landmark protest were held in Ankara, Izmir and the mainly Kurdish southeastern city of Diyarbakir as well as abroad in cities like Cologne and Melbourne, the Saturday Mothers wrote on their Facebook page.

The Saturday Mothers group is demanding a full opening of the state archives to uncover what happened to their loved ones, prosecution of the perpetrators and the abolition of the statute of limitations for abuses committed by the security forces.

Photographs circulating on social media claimed that Mesut Yilmaz, Turkish prime minister on three occasions in the 1990s, had been present in the vicinity of the Istanbul rally.

However it later appeared that he had been voting in elections for the president of Galatasaray sports club rather than taking part in the protest.