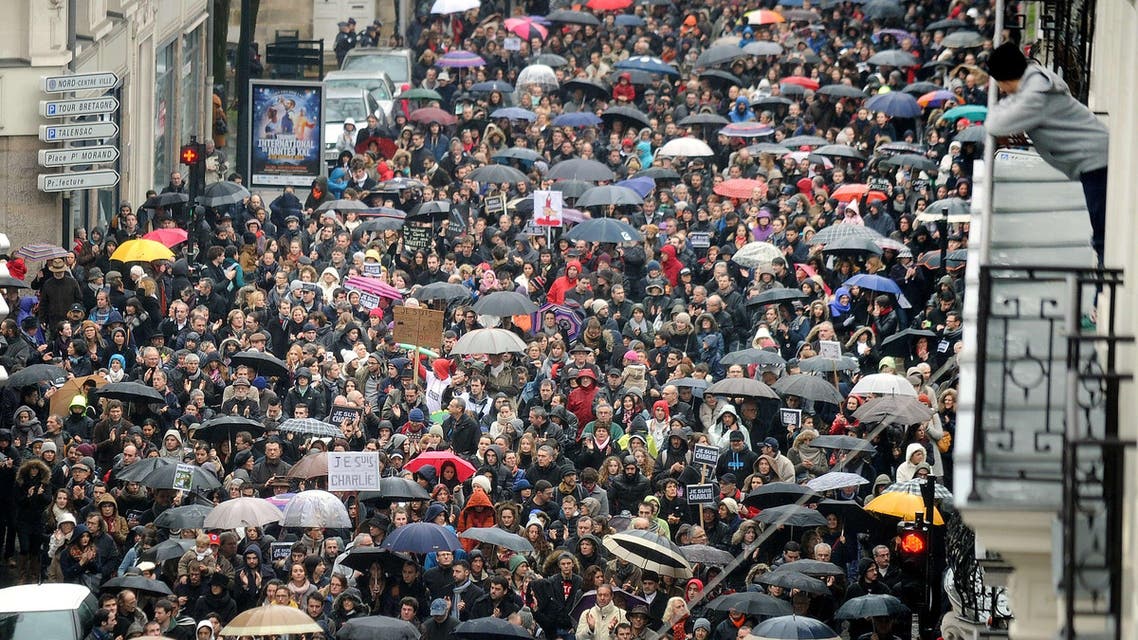 Hundreds of thousands rally in France after attack
Around 700,000 people have poured out onto the streets of France to pay tribute to the 17 people killed during three past three days
Around 700,000 people have poured out onto the streets of France on Saturday to pay tribute to the 17 people killed during three days of terror, the interior minister said.

"700,000 people have marched" in cities around France, Bernard Cazeneuve told reporters on the eve of a rally in Paris he said would likely attract "several hundred thousand" people, as well as a string of world leaders.
Sunday's rally is expected to draw up to a million people in tribute to the 17 people killed in three days of attacks by Islamist extremists.

The rally will be attended by French political leaders from both the left and right – including President Francois Hollande and his predecessor Nicolas Sarkozy.

Leaders from around the world will also join the march in solidarity. These include the prime ministers of Belgium, Britain, Denmark, Germany, Spain, Turkey, and the Netherlands as well as the presidents of the European Parliament and European Union and the secretary-general of NATO.
France's government urged the nation to remain vigilant Saturday, as thousands of security forces try to thwart new attacks and hunt down a suspected accomplice in a rampage by terrorists linked to Al-Qaida in Yemen that scarred the nation and left 20 dead.

Hundreds of thousands of people marched in cities from Toulouse in the south to Rennes in the west to honor the 17 victims of three attackers, killed by police after three days of bloodshed at the offices of a satirical newspaper, a kosher supermarket and other sites around Paris.

The sense of relief was tinged with sorry and worry. In Paris, security forces guarded places of worship and tourist sites, and prepared for Sunday's mass rally.

French Interior Minister Bernard Cazeneuve said authorities would do everything to ensure security at the event. Speaking after an emergency meeting called by French President Francois Hollande on Saturday morning, Cazeneuve called for "extreme vigilance," saying that "given the context, we are exposed to risks."

Al-Qaida's branch in Yemen said it directed Wednesday's attack against the publication Charlie Hebdo to avenge the honor of the Prophet Mohammad, a frequent target of the weekly's satire.

In a sign of the tense atmosphere, a security perimeter was briefly imposed at Disneyland Paris on Saturday before being lifted, a spokeswoman said, without elaborating. Movement around the park was back to normal by early afternoon.

Cazeneuve said the government is maintaining its terror alert system at the highest level in the Paris region, and said investigators are focusing on determining whether the attackers were part of a larger extremist network.

Five other people are in custody as part of the investigation, and family members of the attackers are among several given preliminary charges so far.

French radio RTL released audio Saturday of the attacker, Amedy Coulibaly, who seized hostages in the kosher supermarket, in which he lashes out over Western military campaigns against extremists in Syria and Mali. He describes Osama bin Laden as an inspiration.

One of his hostages said on France 2 television Saturday that the gunman told them: "'Me, I'm not scared of dying. Either I die, or I get a 40-year prison sentence.'" The woman was identified only as Marie, and didn't show her face.

The focus of the police hunt is on Coulibaly's widow, Hayat Boumeddiene. Police named her as an accomplice and think she is armed.

"You must consider her as the companion of a dangerous terrorist who needs to be questioned," Christophe Crepin, spokesman for UNSA police union, told The Associated Press. "Since 2010, she has had a relationship with an individual whose ideology translates into violence and the execution of poor people who were just doing their shopping in a supermarket."

Jewish groups planned a vigil after sundown Saturday to mourn the four people killed at the kosher market.
(Agencies)