A dozen French soldiers joined ISIS: ministry
Former member of France's elite force is believed to be fighting among ISIS
About 10 former French soldiers have joined the Islamic State of Iraq and Syria (ISIS) among the hundreds of French radicals believed to be fighting for the extremist group, France's defense sources said Wednesday.
We estimate at around a dozen the number of former troops who have joined these networks," Agence France-Presse quoted a source as saying.
"Our concern is not former soldiers... It's preventing the phenomenon of radicalisation with our forces," the source added.

Defence Minister Jean-Yves Le Drian refused to comment directly on the affair.
Infographic: A dozen French soldiers joined ISIS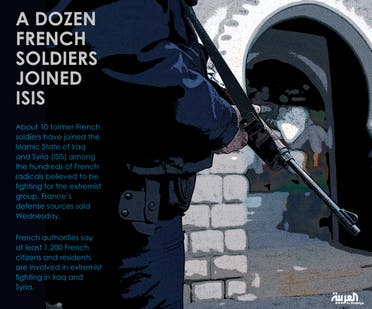 "The cases of former soldiers being tempted by jihadism are extremely rare," he told a press conference to announce new anti-terrorism measures in the wake of the recent attacks in Paris.

The military's 1,000-strong internal intelligence unit will get 65 extra staff to help vet and track recruits more closely, the ministry announced.
One of the three gunmen in the Jan. 7-9 attacks on a kosher market and a satirical newspaper claimed allegiance to the ISIS. The other two claimed ties to al-Qaeda in Yemen.
French authorities say at least 1,200 French citizens and residents are involved in extremist fighting in Iraq and Syria.
Ex-member of France's elite
Citing local media, The Telegraph said the most worrying is the reported presence of an ex-member of France's elite First Marine Infantry Parachute Regiment among ISIS.
The regiment is considered to be one of Europe's most experienced special forces units and which shares the "Who Dares Wins" motto of the SAS.
The individual, left unnamed, is said to be of North Africa origin. He had received commando training in combat, shooting and survival techniques and served for five years before joining a private security company for whom he worked in the Arabian peninsula, where he was radicalized before heading for Syria, according to L'Opinion.
Another defector is said to have become an "emir," or leader of a dozen of French-born Islamists operating in the Syrian region of Deir Ezzor. The group members are said to have all received solid combat training, reported Radio France International, or RFI.
Others, apparently in their twenties, are explosive experts. Some are Muslim converts while others are radicalized French from an "Arab-Muslim" background, said RFI.
(With the Agencies)