Ethiopian Israelis clash with police as anti-racism protests continue
Hundreds of Ethiopian Israelis protested in central Tel Aviv against police brutality and institutionalised discrimination
Israeli mounted police charged hundreds of ethnic Ethiopian citizens and fired stun grenades on Sunday to try to clear one of the most violent protests in memory in the heart of Tel Aviv.
Hundreds of Ethiopian Israelis protested in central Tel Aviv on Sunday against alleged police brutality and institutionalised discrimination, an AFP correspondent said.
The protest came three days after a stormy demonstration in Jerusalem sparked by footage showing two policemen beating a uniformed Israeli soldier of Ethiopian origin.
As the rally began, Prime Minister Benjamin Netanyahu released a statement saying that on Monday he would meet Damas Pakada, the soldier who was beaten, as well as other representatives of the Ethiopian community.
There were no reports of clashes as occurred in Jerusalem on Thursday, when 10 protesters and three policemen were injured.
Scores of other Israelis also joined Sunday's rally, chanting and bearing signs reading: "A violent policeman must be put in prison" and "We demand full equal rights".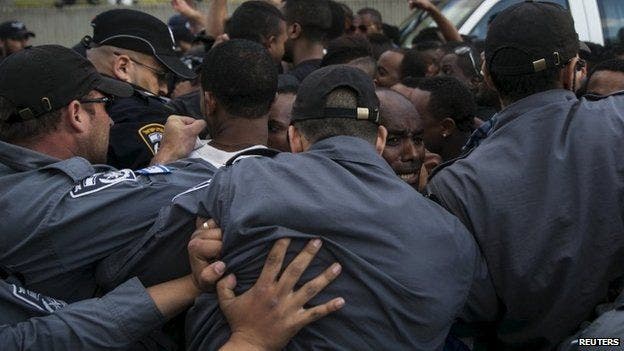 As they marched, some held their arms in the air, wrists crossed as if handcuffed, as police blocked them from accessing a nearby highway.
"Being black, I have to protest today," 34-year-old Eddie Maconen told AFP.
"I never experienced police violence against me personally, but it is aimed at my community which I have to support," he said.
"I never experienced police violence against me personally, but it is aimed at my community which I have to support," he said.
Maconen, who came to the country aged three, said the protesters wanted violent policemen to be put on trial before deeper issues of social inequality were tackled.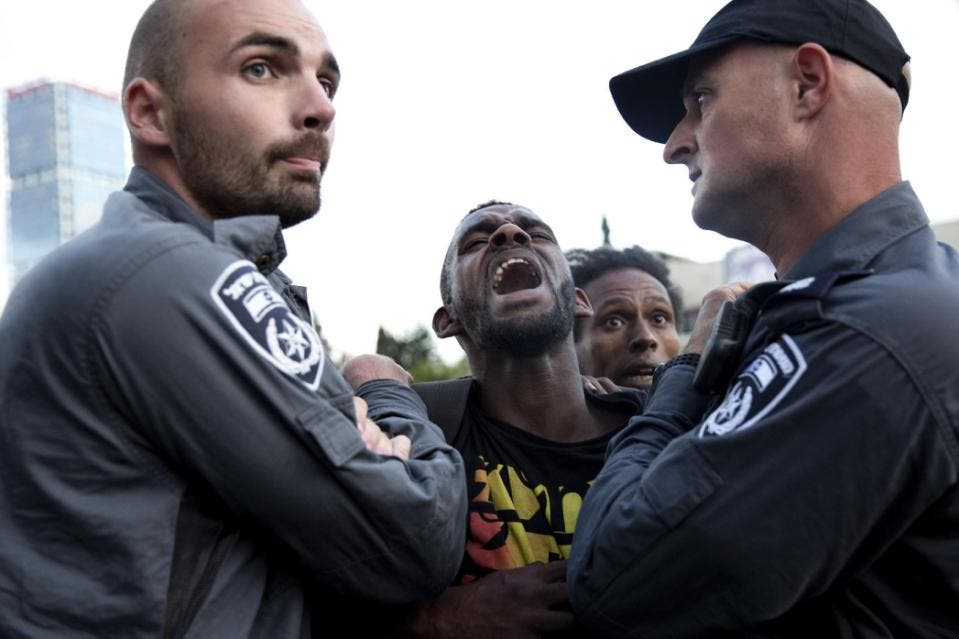 "First the police need to be dealt with, then we'll get to all the other (official) bodies that screw over Ethiopians," he said.
Demonstrators overturned a police car and threw bottles and stones at officers in riot gear at Rabin Square in the heart of Israel's commercial capital. At least 20 officers were injured and a number of protesters were arrested, police said.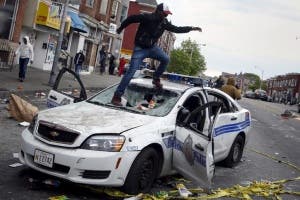 Israel's Channel 2 television said tear gas was also used, something the police declined to confirm.

"I've had enough of this behaviour by the police, I just don't trust them any more ... when I see the police I spit on the ground," one female demonstrator who was not identified told Channel 2 before police on horseback had charged.

Earlier, demonstrators brought evening rush hour traffic to a standstill for over an hour by blocking one of the city's main highways.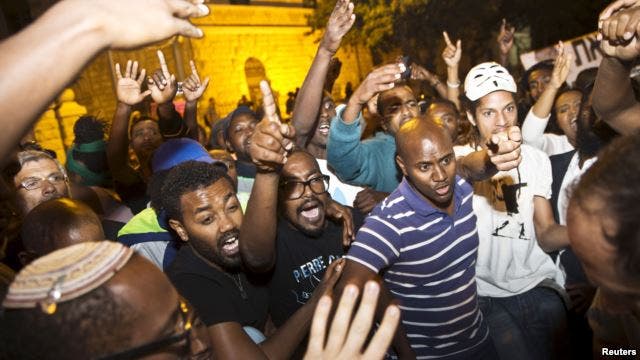 There was no immediate sign of demonstrators dispersing and some protest orgainsers told Israeli media that sections of the crowd had been incited to violence.

Tens of thousands of Ethiopian Jews were airlifted to Israel in dramatic, top-secret operations in the 1980s and 1990s after a rabbinical ruling that they were direct descendants of the biblical Jewish Dan tribe.

The community, which now numbers around 135,500 out of Israel's population of over 8 million, has long complained of discrimination, racism and poverty.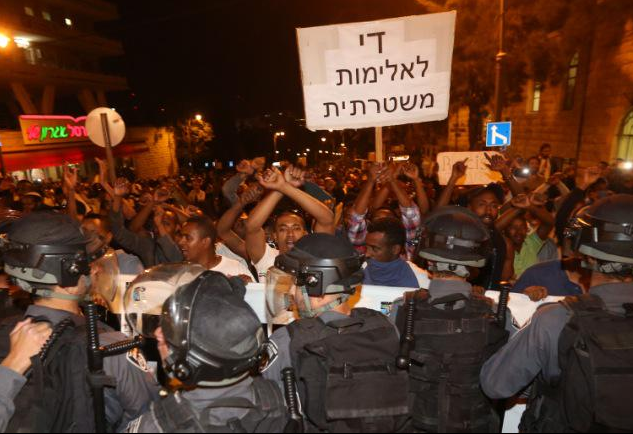 Tensions rose after an incident a week ago in a Tel Aviv suburb where a closed circuit video camera captured a scuffle between a policeman and a uniformed soldier of Ethiopian descent.

Two policemen were suspended on suspicion of using excessive force. Israeli politicians, stung by community leaders' comparison of the incident to police violence against blacks in the United States, have tried to defuse tensions.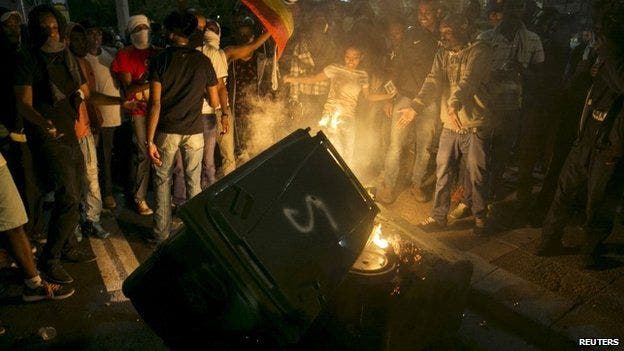 At a protest by Ethiopian Jews on Thursday in Jerusalem, police used water cannon to keep angry crowds away from Netanyahu's residence, and at least 13 people were injured.
Ethiopian Jews have joined the ranks of legislators and the officer corps in the country's melting pot military but official figures show they lag behind other Israelis.

Ethiopian households earn 35 percent less than the national average and only half of their youth receive high school diplomas, compared with 63 percent for the rest of the population.