UK minister vows 'terrorists will not win' in Tunisia tribute
Speaking to reporters from the Riu Imperial Marhaba hotel that the lone shooter had targeted, May vowed to fight back against extremists
Britain's Home Secretary Theresa May vowed Monday that "the terrorists will not win" after paying tribute in Tunisia to the 38 people, mainly Britons, killed by a jihadist gunman.
Her Tunisian counterpart Najem Gharsalli said that security forces have made their first arrests over Friday's beach attack, "a significant number of people, from the network that was behind this terrorist criminal".
Speaking to reporters from the Riu Imperial Marhaba hotel that the lone shooter had targeted, May vowed to fight back against extremists.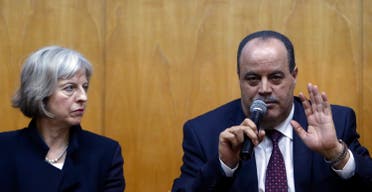 "We will be united in working together to defeat them but united also in working to defend our values," May said, branding the killings "a despicable act of cruelty".
"We are resolved... to defeat those who would do us harm, to defeat those who would undermine our freedom and democracy and to ensure that the terrorists do not win," she added.
French Interior Minister Bernard Cazeneuve echoed May's words and said: "We will win this war."
"I want to express the absolute determination we have to reinforce our cooperation in the fight against terrorism," said Cazeneuve, adding that France would help "ensure the development" of Tunisia's economy.
A spokeswoman for Prime Minister David Cameron said Monday that 18 British nationals were confirmed to have died in Friday's massacre but said that the number is expected to reach "around 30".
The authorities have identified the attacker as 23-year-old student Seifeddine Rezgui, who pulled a Kalashnikov rifle from inside a beach umbrella and opened fire on holidaymakers at the resort before being shot dead.
Tunisian Minister Gharsalli warned "anyone who provided any logistical or financial assistance" to Rezgui would be arrested.
"I promise the victims... that these criminal killers will be brought before Tunisian justice so they are justly punished," he added.
German Interior Minister Thomas de Maiziere also said the four countries would work together "so that the terrorists don't have the last word".
Earlier, the ministers joined Tunisian officials in laying a wreath in the sand near the hotel where the attack took place.
The massacre, claimed by the Islamic State of Iraq and Syria (ISIS) group, was the worst jihadist attack in Tunisia's history and the deadliest for Britain since the 2005 bombings.
While it has been praised for holding democratic elections, critics say Tunisia has yet to deal with the poverty and social exclusion that has fuelled radicalism among some of its youth.