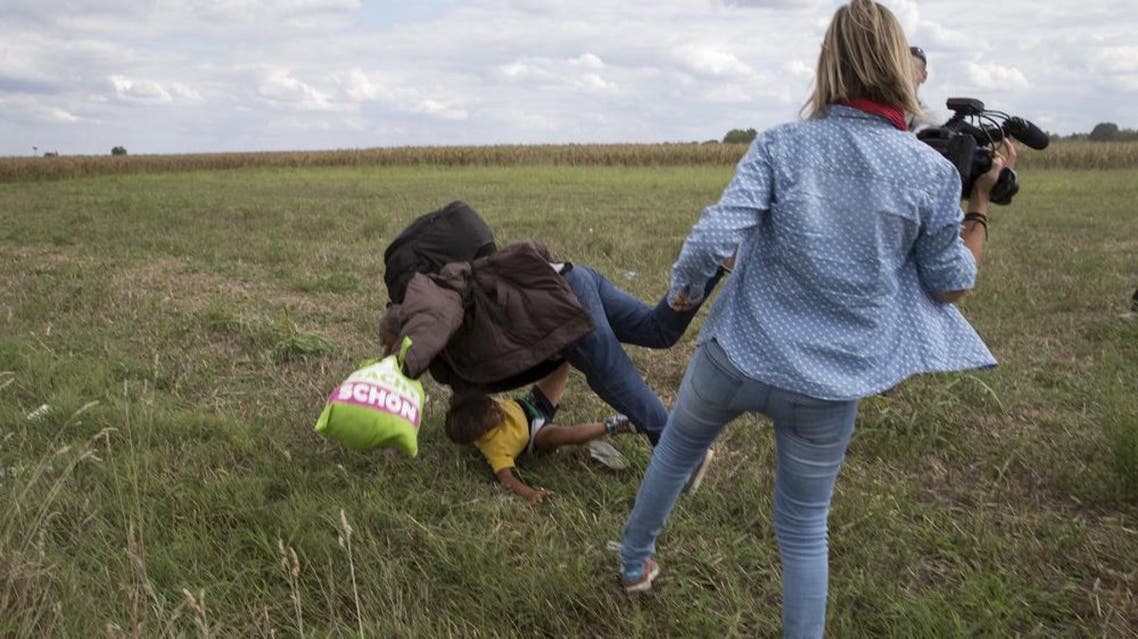 Fired Hungarian camerawoman apologizes for kicking migrants
The 40-year-old was fired by the right-wing N1TV online channel after footage of her kicking and tripping migrants Tuesday near the village of Roszke
A Hungarian camerawoman caught on video kicking and tripping migrants near the Serbian border has offered a qualified apology for her behavior.

Petra Laszlo said in the letter published Friday in the daily Magyar Nemzet newspaper that she was "sincerely sorry for what happened," but she also sought to defend her actions.

The 40-year-old was fired by the right-wing N1TV online channel after footage of her kicking and tripping migrants Tuesday near the village of Roszke went viral on social media. Laszlo was seen sticking out her leg to trip a running man carrying a young boy, sending both crashing to the ground as the man fell on the boy. She also was seen delivering sideways kicks to the knees of a young man and a pony-tailed girl as they ran past her.

But in her letter, Laszlo sought to describe her kicks and stuck-out leg as a reasonable response to a chaotic situation. She was filming people running away from a field that police use to put newly arrived migrants on buses for asylum registration centers.

"I was scared as they streamed toward me, and then something snapped inside me," she wrote. "With the camera in my hands, I didn't see who was coming toward me. I just thought they were on the attack and I had to defend myself. It's hard to make good decisions when one is panicking."



She criticized those who condemned her on social media sites and said she had received death threats.

"I am not a heartless, child-kicking, racist camera operator. I do not deserve the political witch hunt that has been launched against me, nor do I deserve the abusive threats that often call for my death. I am just a woman, who has recently become an unemployed mother," she wrote.

Police questioned Laszlo on suspicion of disorderly conduct Thursday, released her without charge, and say the investigation is continuing. Her former employer, N1TV, regularly carries reports supportive to Jobbik, an ultranationalist party that calls for all foreigners to be deported.