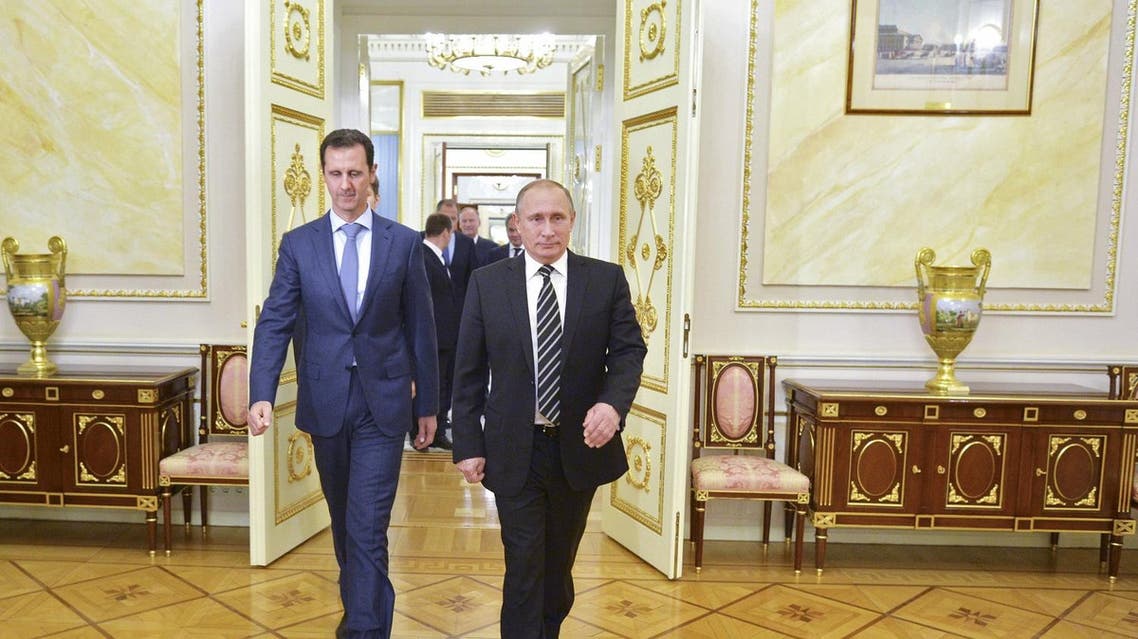 Syrian opposition rejects Russian constitution
A document has been circulated that calls for drafting a new constitution but makes no mention of Assad's future
Syrian opposition figures rejected on Wednesday a Russian draft proposal for a process aimed at solving the nearly five-year war, saying Moscow's aim was to keep President Bashar al-Assad in power and marginalize dissenting voices.

A draft document obtained by Reuters on Tuesday showed Moscow would like the Syrian government and opposition to agree on launching a constitutional reform process of up to 18 months, followed by early presidential elections.

Russia, which with Iran has been Assad's top ally during the civil war, has denied any document is being prepared before international peace talks in Vienna this week

The text, obtained by Reuters, does not rule out Assad's participation in early presidential elections, something his enemies say is impossible if there is to be peace.

"The Syrian people have never accepted the dictatorship of Assad and they will not accept that it is reintroduced or reformulated in another way," said Monzer Akbik, member of the Western-backed Syrian National Coalition.

"The Russians are now trying to play the game they have been playing since Geneva," he told Reuters, referring to U.N.-led peace talks that collapsed in 2014.

Hadi al-Bahra, a member of the coalition's political committee, said the main problem was Assad and any political process needed to tackle this with assurances and guarantees.

He also dismissed the idea of holding elections under the current system. "How can the elections be fair when the citizens inside Syria are afraid of retaliation from the security services of the regime?" he said.

Coalition member Michel Kilo said Moscow's real aim was to preserve Assad and his state apparatus by pushing for an unfair electoral process. "We are not against elections, we are democrats. But it cannot be that we are forced to accept a president, who is a criminal, who destroyed the country - what logic is behind this idea?"

He said that if the Russians successfully pushed ahead with this idea at the next round of Vienna talks and managed to convince other countries, it would be a disaster.

Any plan for Syria must be agreed with the Syrian people and not be imposed by the outside, he said.

"There are hundreds, thousands of people that are armed in Syria and they want to resist the Russians and everyone if they do not give them their right as a people," he said.

The United States, its Gulf allies and Turkey have also all said Assad must leave power for there to be peace.
Document's details
The Russian document, entitled "Approach To The Settlement of The Syrian Crisis," focuses on both opposition and "terrorist groups," and the need to differentiate between them.

It calls for the Security Council to agree to list the Islamic State of Iraq and Syria (ISIS) group as "a terrorist organization," and agreement on an additional list of terrorist groups.

When the Syrian government and opposition delegations meet under U.N. auspices, the document says they should agree on a series of steps:
Launching a constitutional reform process taking up to 18 months to guarantee "sustainable security and fair balance of interests, rights and obligations of all ethnic and confessional (religious) groups in structures of power and state institutions."
Forming a constitutional commission "to embrace the entire spectrum of the Syrian society, including domestic and outside opposition," with the chair agreed by all participants.

Submitting the draft constitution to a popular referendum, and "after its approval an early presidential election will be called."
Postponing parliamentary elections planned for spring 2016 and scheduling them to be held simultaneously with presidential elections on the basis of the new constitution. Assad was elected to a new seven-year term in 2014 elections that the opposition dismissed as a sham because of the impact of the civil war.
Agreeing that the popularly elected president will be commander-in-chief of the armed forces and have "control of special services and foreign policy."