Police clash with climate activists at Paris demonstration
Thousands of people joined one of the biggest global days of climate change activism from Sydney to Berlin to unite world leaders against global warming
French police fired teargas Sunday to disperse climate change activists in Paris who threw objects at them during a demonstration ahead of key U.N. talks, AFP reporters said.
Riot police took action after a small group of masked protesters in the Place de la Republique square began chanting "State of emergency, police state," referring to measures restricting protests that were introduced after the November 13 terror attacks in the city.
Before the clashes, tens of thousands of people joined one of the biggest global days of climate change activism on Sunday, from Sydney to Berlin, to put pressure on world leaders to unite in fighting global warming at a summit in Paris.

About 20,000 pairs of shoes were laid out in the Place de la Republique in the French capital, from high-heels to boots, to symbolize absent marchers after attacks by Islamic State militants killed 130 people on Nov. 13 and led France to ban a protest that was meant to be at the heart of the global action.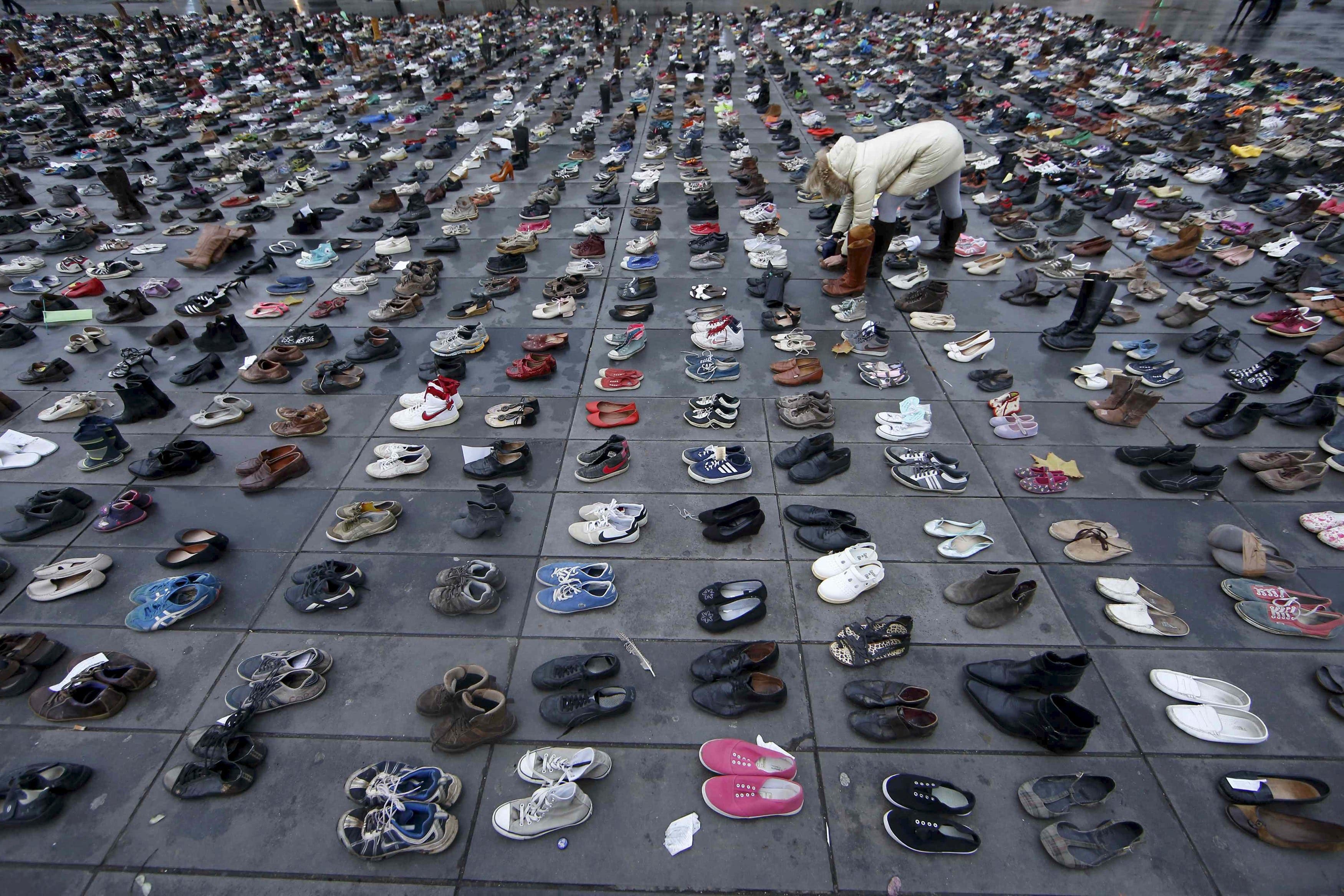 Organizers said the Vatican sent a pair of shoes on behalf of Pope Francis. One activist, dressed in white as an angel with large wings, held a sign saying "coal kills."

More than 2,000 events were being held in cities including Sydney, Berlin, London, Sao Paulo and New York, making it perhaps the biggest day of climate action in history on the eve of the Paris conference which runs from Nov. 30-Dec. 11.

In Sydney, about 45,000 people are estimated to have marched through the central business district towards the Opera House. Among them Sydney's Lord Mayor Clover Moore, who tweeted it was the largest climate march ever held in the harbor city.

Protesters held placards reading: "There is no Planet B," and "Say no to burning national forests for electricity."

U.S. President Barack Obama and China's Xi Jinping will be among more than 140 leaders attending the start of the summit.

In Hong Kong, two protesters carried styrofoam polar bears holding signs reading "homeless and hungry" and "please help" because of melting Arctic ice. In Seoul, hundreds of protesters banged drums and danced.
Human chain
Activists in France scaled back their plans when the government imposed a state of emergency after the Paris attacks and banned the march in Paris on security grounds.

But activists plan to form a human chain, with about 3,400 people joining arms along what had been the original 3-km (2-mile) route through central Paris from the Place de la Republique to Place de la Nation.

"This is a moment for the whole world to join hands," said Iain Keith, campaign director for Avaaz, one of the organisers.

Alix Mazounie of French Climate Action Network said the activists reckoned a human chain would not violate the state of emergency. "This is not civil disobedience," she said. The chain would break, for instance, wherever it crossed a road to avoid disrupting traffic.

But, underscoring security worries, France put 24 green activists under house arrest before the summit, Interior Minister Bernard Cazeneuve said on Saturday, saying they were suspected of planning violent protests at the talks.

Some marches were held on Friday and Saturday, from Melbourne to Edinburgh. "Don't be a fossil fool," one Australian banner said.

On Saturday, faith groups delivered a series of petitions signed by 1.8 million people urging stronger action, collected on pilgrimages to Paris. "The time for talking is long over," said Yeb Sano of the Philippines, who walked 1,500 km from Rome.
(With AFP and Reuters)