Rattled Republicans seek a last-ditch strategy to stop Trump
Sensing a window closing fast, Republican leaders and elder statesmen toggled through a menu of scenarios but landed on none
Facing the prospect of nominating Donald Trump for president, Republicans spiraled into a chaotic, last-ditch search Wednesday for a way to save the party from hitching its fortunes to an unpredictable celebrity candidate without alienating his throng of followers.
Sensing a window closing fast, Republican leaders and elder statesmen toggled through a menu of scenarios but landed on none. Some amplified calls to rally around a Trump alternative, even if that alternative is Ted Cruz, a prickly conservative senator with few friends in the party.
Others laid out still-hazy plans for a brokered national convention, an option likely to smack of the backroom dealing Trump fans despise. Some floated more extreme measures, talking of breaking from the party and starting anew.
"It's all a play to stall it or try to deny him the nomination," said Neil Newhouse, a Republican pollster. "And the problem with that is no one has the best scenario for how to do that."
The scrambling came as the billionaire candidate racked up commanding victories in seven of eleven Super Tuesday primary contests, and the path to victory for his rivals narrowed. Trump's strength - which stretched from the Deep South to New England - exposed the depths of the divisions within the party, no matter who becomes the nominee in this election.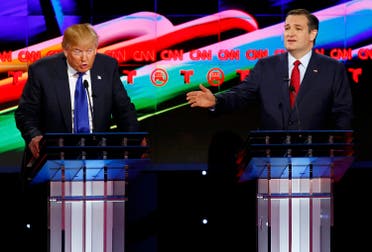 As Republicans surveyed the wreckage from Trump's surge, some argued there was still a chance to stop him. He was not yet on track to claim the nomination before the party's national gathering in July, according to an Associated Press delegate count. He has won 46 percent of the delegates awarded so far, and he would have to increase that to 51 percent in the remaining primaries.
"Trump had a good night, but he left the door open," said David Winston, a Republican pollster.
The Republican mayhem contrasted sharply with a clearer picture on the Democratic side, where Hillary Clinton on Tuesday locked down solid victories in seven states and was on the path to regaining her status as the inevitable nominee. Rival Sen. Bernie Sanders vowed to keep up the fight, campaigning in Maine on Wednesday.
Some Republican officials have said they would not support a Trump nomination, including Massachusetts Gov. Charlie Baker and South Carolina Rep. Mark Sanford, but neither offered another alternative.
While his party looked for ways to stop him, Trump was trying to soften hard feelings. House Speaker Paul Ryan's office said the Trump campaign had reached out but the two men had not connected. It noted the speaker also planned to be in touch with other candidates.
If there is a chance of derailing Trump, who did not campaign Wednesday, it increasingly appears to rest with Cruz. The Texas senator came in just 25 delegates behind Trump Tuesday night, although he faces less favorable contests as the race presses on.