Third Brussels attack suspect still on the run
Authorities also identified Belgian brothers Ibrahim and Khalid El-Bakraoui as the two suicide bombers
Belgium's federal prosecutor said on Wednesday that the third Brussels attack suspect Najim Laachraoui is still on the run, adding it has confirmed the identity of the two brothers who carried out suicide attacks at Brussels airport and on a metro train that killed 31 people and wounded 270 the day before.
Ibrahim el-Bakraoui blew himself up in the check-in hall of Zaventem airport while Khalid el-Bakraoui attacked a metro train at Maalbeek station near the EU headquarters, Frederic van Leeuw told a news conference. The prosecutor said Ibrahim left his will at a trash can, saying "I don't know what to do."
Also read: Brussels attackers had police records for shooting at police, stealing
Najim Laachraoui
Earlier, Belgium said it was able to identify, capture and arrest the third suspect of the Brussels airport attack on Wednesday after identifying the other two suicide bombers.
Najim Laachraoui, who could be seen in a white coat and black hat shortly before the attack in photos released, was previously identified by local media to have been arrested, but this was later denied.
Police sources later told AFP on Wednesday that the second suicide bomber who blew himself up at Brussels airport has been identified as Laachraoui.
Moroccan-born Laachraoui's DNA was found on explosives used in the November 13 Paris attacks as well as at an apartment in Brussels where bomb-making equipment and a fingerprint from Salah Abdeslam -- prime suspect in the Paris attacks -- had been found in December.
The blasts in Brussels occurred four days after Abdeslam's arrest.
Prosecutors have said Laachraoui "travelled to Syria in February 2013," and was registered under a false name at the border between Austria and Hungary last September.
He was travelling with Franco-Moroccan Abdeslam and Algerian Mohamed Belkaid, who was killed in a March 15 Brussels raid, three days before Abdeslam was captured.
Belkaid is believed to have provided logistical support to the Paris attackers.

The brothers
The brothers were reportedly known to police prior to the Tuesday attacks at the airport that killed at least 14 died and injured 90 others in bombs that exploded in the departures hall of Zaventem airport.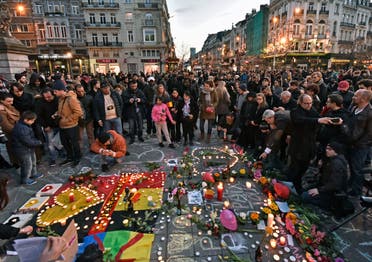 Khalid, under a false name, had rented the flat in the Forest borough of the Belgian capital where police killed a gunman in a raid last week, RTBF said.

Investigators found after that raid an ISIS flag, an assault rifle, detonators and a fingerprint of Paris attacks prime suspect Salah Abdeslam, who was arrested three days later.
ISIS claimed responsibility for the attacks on the airport and metro station in Brussels late on Tuesday.
Belgium began three days of national mourning on Wednesday following what its Prime Minister Charles Michel said was "the deadliest attacks we have ever seen."