Police investigating the murder of a Bangladeshi Muslim couple found shot dead in their San Jose home in California have arrested their two sons.

In a statement issued by San Jose Police Department on Thursday it was revealed that Hasib Bin Golamrabbi and his 17 year-old brother were "the persons responsible for this homicide". Police didn't release the teen's name because of his age.
The police statement explained: "There are no outstanding suspects. The victims were the suspects' parents. No additional details will be provided about the investigation."
Suspect Hasib Golamrabbi was arrested in the Californian town of Tracy, while his brother was arrested in San Jose. The statement went on to confirm that both had been booked into custody for the murders of Golam Rabbi, 59, and his wife, 57-year-old Shamima Rabbi.
The couple's bodies were found on Sunday with a disturbing note in black ink that read: "Sorry, my first kill was clumsy," according to local media reports. They were discovered by relatives who had grown concerned after making several attempts to contact them.
A source told the local news station another message was found daubed across the wall reading: "I can't be like you, telling a lie. I can't love someone without telling them."
Al Arabiya English tried contacting San Jose Police Department for further information, but no one was available to comment.
But according to local press reports it is believed the victims were each shot at least once. And it has been suggested that Shamima Rabbi might begged for her life to be spared before the fatal shot was fired.
Horrified Muslim community reacts
On Wednesday police had said they believed the killer was known to the victims. But while the statement went onto suggest they were eager to speak to the sons, they were not 'considered as suspects'.
Word of the deaths of Shamima and Golam Rabbi and the arrest of their sons sent shock waves through the close-knit Muslims who worship at nearby Evergreen Islamic Center.
"Everybody is praying that it's somebody else who did this and not the kids," said Abdul Jaka, a co-founder of the mosque where the couple worshipped and attended holiday celebrations and other events. "They were a nice family."
The victims' nephew Golam Mustakim and his family emigrated from Bangladesh in 2000 and initially stayed with the Rabbis in their four-bedroom home.
A memorial of roses and prayer candles was created outside home of the victims.
"This is one of those tragedies nobody ever wants to be in," Mosque spokesman Faisal Yazadi said. "All we can do is pray."
It was not immediately clear if the suspects have attorneys.
They were being held without bail. The older son is expected to be in court on Friday. An appearance date for the teen was not immediately available.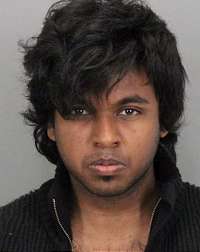 (With AP)