France's Bastille Day terror: 84 killed so far
At least 80 people were killed and scores injured when a heavy truck ploughed into a crowd celebrating Bastille Day in Nice
French authorities were trying to determine on Friday whether a Tunisian who killed at least 84 people by ploughing a truck into Bastille Day crowds had acted alone or with accomplices, but said the attack bore the hallmarks of Islamist militants.

Thursday night's attack in the Riviera city of Nice plunged France again into grief and fear just eight months after gunmen killed 130 people in Paris.

The truck zigzagged along the city's seafront Promenade des Anglais as a fireworks display marking the French national day ended on Thursday night. It careered into families and friends listening to an orchestra or strolling above the Mediterranean beach towards the century-old Hotel Negresco.
French President Francois Hollande said about 50 people were still fighting for the lives following the attack that killed at least 84 people in Nice on Thursday.

"About 50 people are in an absolute urgency between life and death," Hollande said after visiting victims at a hospital in the French Riviera city. He added that there were a lot of foreigners and children among the dead and warned that the fight against extremist groups would be long because they would continue to try to strike at Western values.
The Paris prosecutor later confirmed that there were 84 killed, including 10 children and adolescents. And 202 people were injured, of which 52 are critical, and 25 on life support.
The driver, 31-year-old Mohamed Lahouaiej Bouhlel, was shot dead by officers at the scene, was known to police for petty crimes but was not on a watch list of suspected militants. He had one criminal conviction for road rage, sentenced to probation three months ago for throwing a wooden pallet at another driver.

The investigation "will try to determine whether he benefited from accomplices," Paris prosecutor Francois Molins said. "It will also try to find out whether Mohamed Laouaiej Bouhlel had ties to Islamist terrorist organizations."

"Although yesterday's attack has not been claimed, this sort of thing fits in perfectly with calls for murder from such terrorist organizations," he added.
His ex-wife was held for questioning on Friday, a police source said, as investigators seek to establish the motives of the suspect.
Tunisian security sources told Reuters the suspect had last visited his hometown of Msaken four years ago. He had three children and was not known by the Tunisian authorities to hold radical or Islamist views.
The truck careered for hundreds of metres along the famed Promenade des Anglais seafront, slamming into spectators, among them children, who were watching the fireworks, listening to an orchestra or strolling above the beach towards the grand, century-old Hotel Negresco.
France has declared three days of national mourning from Saturday, with French PM Manuel Valls saying flags will be flown at half-mast from starting on Friday. A law extending increased powers for the police will be put before parliament next week, he added.
Warning: Images and footage in video below contains graphic content. Viewer discretion advised.
Dried blood, smashed strollers
Dawn broke on Friday with pavements smeared with dried blood. Smashed children's strollers, an uneaten baguette and other debris were strewn about the promenade. Small areas were screened off and what appeared to be bodies covered in blankets were visible through the gaps.

The truck was still where it had come to rest, its windscreen riddled with bullets.

"I saw this enormous white truck go past at top speed," said Suzy Wargniez, a local woman aged 65 who had watched from a cafe on the promenade. "It was shooting, shooting."

At Nice's Pasteur hospital, medical staff were treating large numbers of injuries. Waiting for friends who were being operated on was 20-year-old Fanny.

"The truck pushed me to the side. When I opened my eyes I saw faces I didn't know and started asking for help," she told Reuters. "Some of my friends were not so lucky. They are having operations as we speak."
"It's a scene of horror," a local member of parliament, Eric Ciotti, told France Info radio, saying the truck had "mown down several hundred people."
"People went down like ninepins," Jacques, who runs Le Queenie restaurant on the seafront, told France Info.
"I saw people go down," bystander Franck Sidoli, who was visibly shocked, told Reuters at the scene. "Then the truck stopped, we were just five metres away. A woman was there, she lost her son. Her son was on the ground, bleeding."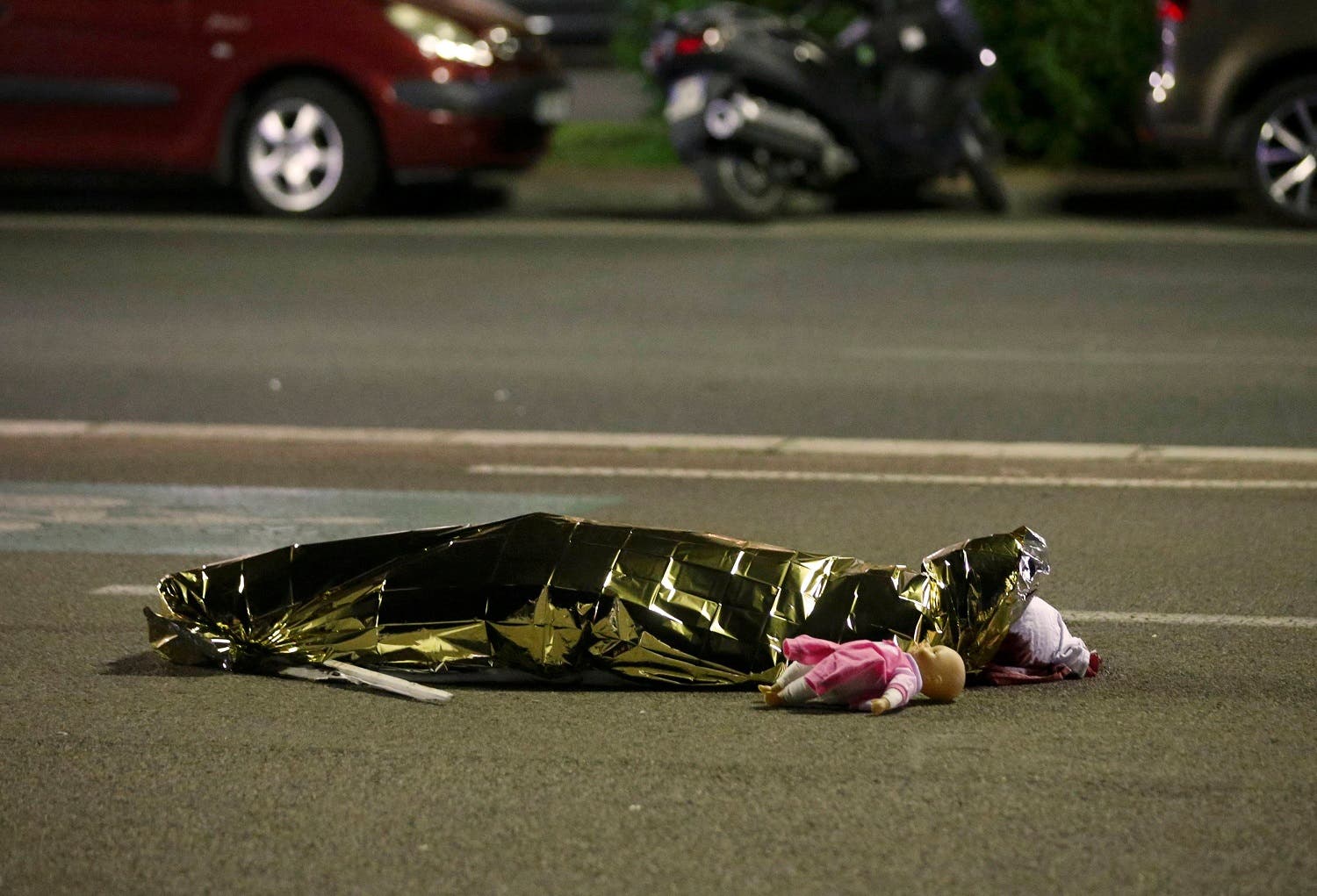 Since the ISIS attacks last year, major public events in France have been guarded by troops and armed police, but it appeared to have taken some minutes to halt the progress of the deadly truck as it tore along pavements and a pedestrian zone.
Police told residents of the city, located 30 km (20 miles) from the Italian border, to stay indoors as they conducted further operations, though there was no sign of any other attack.
During his speech, Hollande addressed a sleepless nation on television at 3:30 a.m. (0130 GMT) saying that France's state of emergency would be extended for another three months as a result of the attack.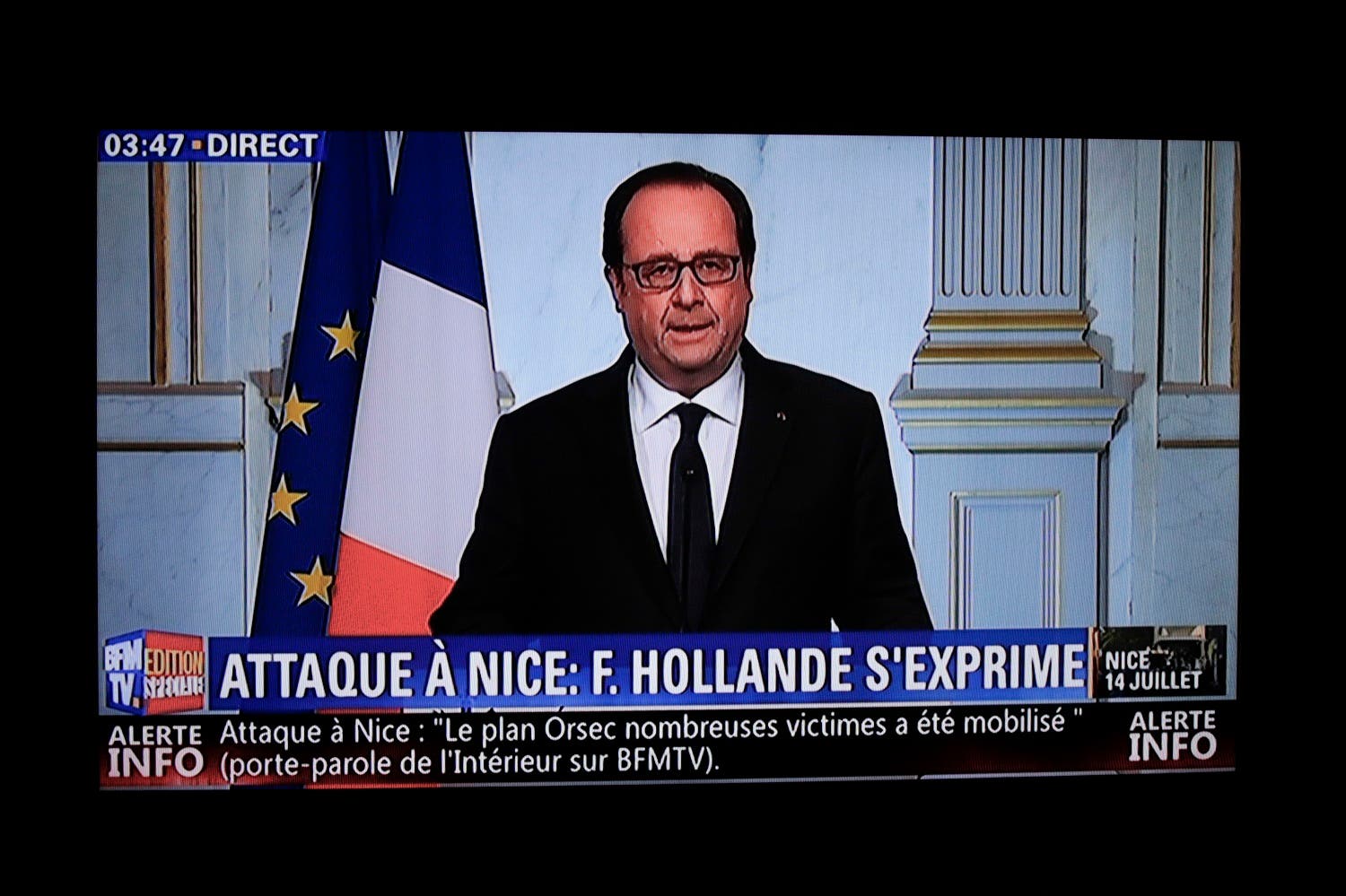 The state of emergency has been in place since November's attacks in Paris, and was due to be lifted on July 26.

Nice, a city of some 350,000 that has a history as a flamboyant resort but is also a gritty metropolis, has seen some of its Muslim residents travel to Syria to fight, a path taken by previous ISIS attackers in Europe.
(with Reuters, AFP and the Associated Press)