Police hunt for Munich gunmen, multiple dead
Special force police arrived at the scene of a Munich shopping center, where an attack is believed to have killed several people
As night falls on Germany, police in Munich are on a desperate hunt to catch at least three gunmen who earlier today carried out attacks on a shopping center, killing several and wounding many.
German police reported that the shooting had killed at least eight people. They wrote on Twitter "sad news: the number of dead has risen to eight."
Police later on Friday evening said they have found a ninth body at the shooting scene, but are checking to see if it belongs to one of the gunmen who had reportedly killed himself near the shopping center by shooting himself in the head.
The mall near the southern German city's Olympic stadium was surrounded by police after shots were fired.A spokesman said that witnesses had seen the three men carrying long rifles.
Unconfirmed footage shows a gunman dressed in black emerging from a McDonalds at the shopping mall, opening fire with a pistol on civillians.
The footage could be corroborated by a police source. "The shooting apparently began at a McDonald's in the shopping center. There are still people in the shopping center. We are trying to get the people out and take care of them," a Munich police spokeswoman said.
"There is a major police operation under way in the shopping centre," Munich police said on Twitter, urging people to avoid the area.
Emergency vehicles were seen in the streets outside, as passers-by looked on.
Eyewitness reports were mixed over what motivation the shooters claimed during the attacks.
One eyewitness said that one of the gunmen who opened fire at the shopping mall's McDonald's outlet claimed he was German and shouted "F*** foreigners," the website of the British Daily Mail paper reported.
Another eyewitness, known only as Lauretta, told CNN in a phone-in interview that the same gunman had shouted "Allahu Akbar," Arabic for 'God is great.'
One male witness speaking to rolling news channel NTV also said he saw one of the gunmen at the mall "dressed as Father Christmas and wearing sunglasses".
Later on Friday evening, broadcaster BR reported that police were using robot to investigate a suspicious backpack.
'Crisis situation'
The German government is preparing for a "crisis situation" due to the shooting, according to news agency DPA. Meanwhile members of Germany's elite anti-terrorism force are on their way to the scene of the deadly shooting.
Munich, a city of around 1.4 million residents, was later on Friday evening placed in a state of emergency, while German Chancellor Angela Merkel is set to convene the country's security council, while the interior minister will cancel his US vacation.
Motives behind the attack were still unclear on Friday evening. An aide to Merkel said that they were not ruling out any hypothesis about the shooting.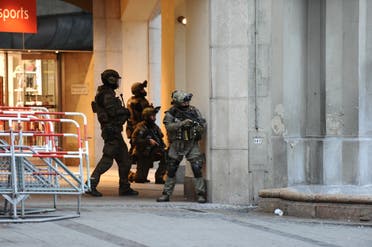 Munich transportation authorities say have halted service on multiple train, tram and bus lines, and the city's central train station has also been evacuated.
The shopping center is next to the Munich Olympic stadium, where the Palestinian militant group Black September took 11 Israeli athletes hostage and eventually killed them during the 1972 Olympic Games.
Footage posted on Twitter by a German user showed a gunman armed with a pistol pacing earlier on the roof of the shopping center, and then opening fire.
A local broadcaster BR has said that police are asking people to leave highways near Munich, a likely sign that authorities are widening their search for the gunmen.
The attack comes just days after a teenage asylum seeker went on the rampage with an axe and a knife on a regional train in Germany, injuring five people.
Interior Minister Thomas de Maiziere said the teenager was believed to be a "lone wolf" attacker who appeared to have been "inspired" by the ISIS group but was not a member of the militant network.
It also follows a truck attack in the French Riviera city of Nice after Bastille Day fireworks last week that left 84 people dead.
More footage taken at the scene showed Munich paramedics attending to the wounded on a street.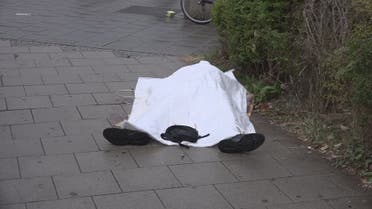 (With Agencies)