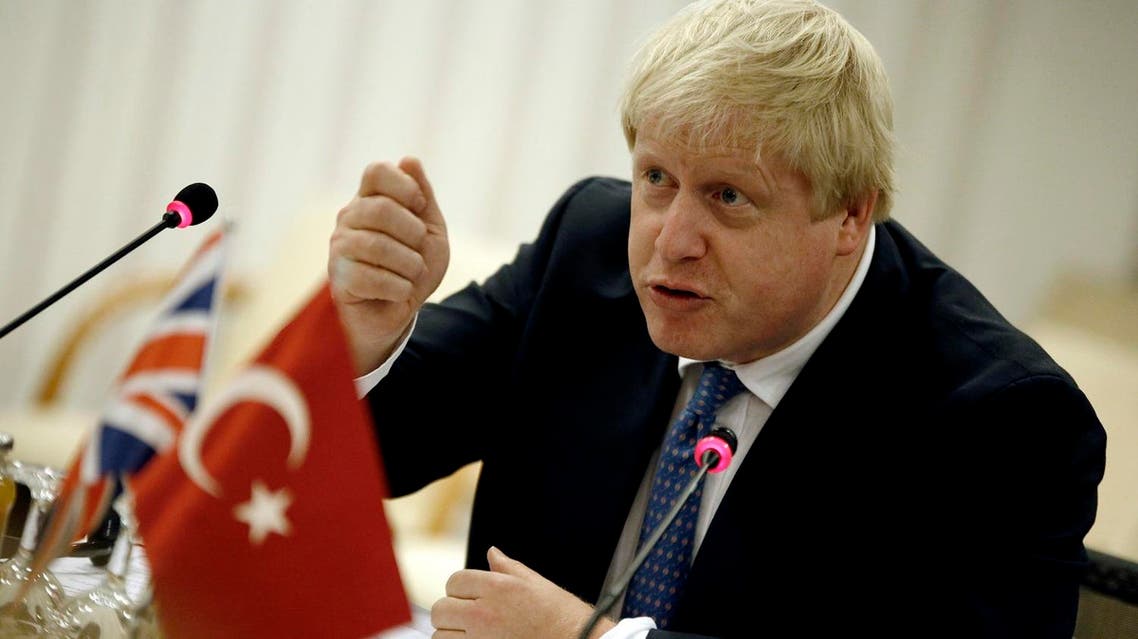 Britain's Boris Johnson wants 'jumbo' free trade deal with Turkey
British Foreign Secretary Boris Johnson said on Tuesday he hoped for a "jumbo" free trade deal with Turkey and backed Ankara's policy on Syria
British Foreign Secretary Boris Johnson said on Tuesday he hoped for a "jumbo" free trade deal with Turkey and backed Ankara's policy on Syria, seeking to bolster ties with the European Union candidate country after Britain's vote to leave the bloc.

Johnson, on his first official visit to Turkey since becoming foreign secretary, said his hosts had not brought up his winning entry in a "President Tayyip Erdogan Offensive Poetry competition" earlier this year, which involved a goat, wild oats and the Turkish leader.

"What I hope for is a jumbo free trade deal between the United Kingdom and Turkey," Johnson told a news conference with Turkish Foreign Minister Mevlut Cavusoglu. "We are leaving the EU, but we are not leaving Europe."

While Ankara is not a member of the European Union, it aspires to join the bloc and has a customs union with it.

Johnson, the former mayor of London who became the lead campaigner for the pro-Brexit camp, was selected by Prime Minister Theresa May as foreign secretary in July, prompting concern about relations with Ankara.

He and other pro-Brexit campaigners were accused by Turkey's press and politicians of playing on British fears about a wave of immigration from mainly Muslim Turkey during the Brexit campaign. Earlier this year, the pro-government Daily Sabah newspaper described him as "anti-Turkey".

Two months before he was named as foreign secretary, his five-line verse won the Spectator magazine's poetry competition.

A senior Turkish official later said Ankara would draw a line under Johnson's past comments, but said relations would be damaged if he repeated such insults.

"I am delighted to say that it has not come up at all in the very detailed conversations I had," Johnson said on Tuesday when asked by a reporter about the poem.

"Much to my amazement it has not come up at all. Nobody raised such trivia until you did," he told the reporter.
'Ottoman Boris'
Johnson, who was also due to meet Erdogan on Tuesday, had already been on a push to smooth over differences with his hosts. On Monday, he kicked off the visit to Ankara by highlighting his "proud ownership" of a Turkish washing machine.

In return, Turkey's EU Affairs minister, Omer Celik, hailed Johnson's Turkish roots, referring to him as an "Ottoman" and a strong supporter of Turkey in the aftermath of its failed coup.

Johnson's great-grandfather, Ali Kemal, was an opposition figure in the late Ottoman period and was lynched during Turkey's War of Independence in the early 1920s.

"This is the land of my fathers, this very ministry is where my relatives used to work," he told the news conference at Turkey's foreign ministry.

Known for his clownish persona and disheveled mop of platinum hair, Johnson has risen from EU-bashing journalist to Britain's most colorful politician.

The local administrator in the central Anatolian village of Kalfat, from where Johnson's great-grandfather hailed, told Reuters he hoped the foreign secretary would someday visit his ancestral home.

"There are several people in our village who resemble Mr Johnson both facially and physically. We call them the Sarioglan sulalesi," said Adem Karaagac, using a Turkish term that roughly translates as "Yellowboy family".

Karaagac said if Johnson visited, he could try the local ayran, a popular cold drink made from yoghurt.

"The people would be happy that the esteemed foreign secretary of Britain came all the way to the Kalfat village of Cankiri in Turkey," Karaagac said.

"It's a source of pride to see our Boris achieve this."