At least 10 people are feared dead and 50 others injured after explosions rocked a metro station in Russia's second city of Saint Petersburg, Al Arabiya News Channel's correspondent reported.

There were blasts in two train carriages at two metro stations, St Petersburg emergency services said.

News agency Interfax cited a source as saying at least one of the blasts involved a device filled with shrapnel. The agency also said that 50 people had been injured.
All metro stations in St. Petersburg have been temporarily closed down.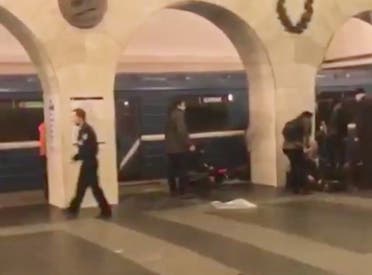 Russian President Vladimir Putin says his government is "considering all causes, including terrorism".
"Sources from Russian President Vladimir Putin's government have said they are considering all causes behind the explosion but are looking at mainly three main theories; either it was a technical error, or an organized crime or a terrorist attack," Al Arabiya News Channel's correspondent in St. Petersburg Mazen Abbas said.
Abbas also reported that initial reports from security sources suggest the explosives were made from devices with at least 350g TNT.
Tight security
Journalist and writer Ashraf al-Sabbagh told Al Arabiya from Moscow that sources have confirmed that tightened security is expected in Moscow in the coming days.
"It is expected for Moscow to tighten security even further after Monday's attacks in St. Petersburg. Security has already been tight for the past few months as this is not the first threat Russia has faced. To what extent these measures will take shape will be clear in the coming days," Sabbagh told Al Arabiya.