The man who opened fire on Republican lawmakers at a baseball practice early on Wednesday, wounding a top congressman and three others, has died of injuries sustained in a shootout with police, President Donald Trump said.
"Many lives would have been lost, if not for the heroic actions of the two Capitol police officers who took down the gunman despite sustaining gunshot wounds during a very, very brutal assault," Trump said in remarks to the nation.

Trump also called for unity after the congressional shooting, saying we are strongest when "we work together for the common good".
The gunman had opened fire on Republican members of Congress during a baseball practice near Washington early on Wednesday, wounding several people including House of Representatives Majority Whip Steve Scalise before
being taken into custody, police and witnesses said.
The Congressman's wounds were not believed to be life-threatening.
Alexandria police said a suspect in the shooting was in custody and "not a threat."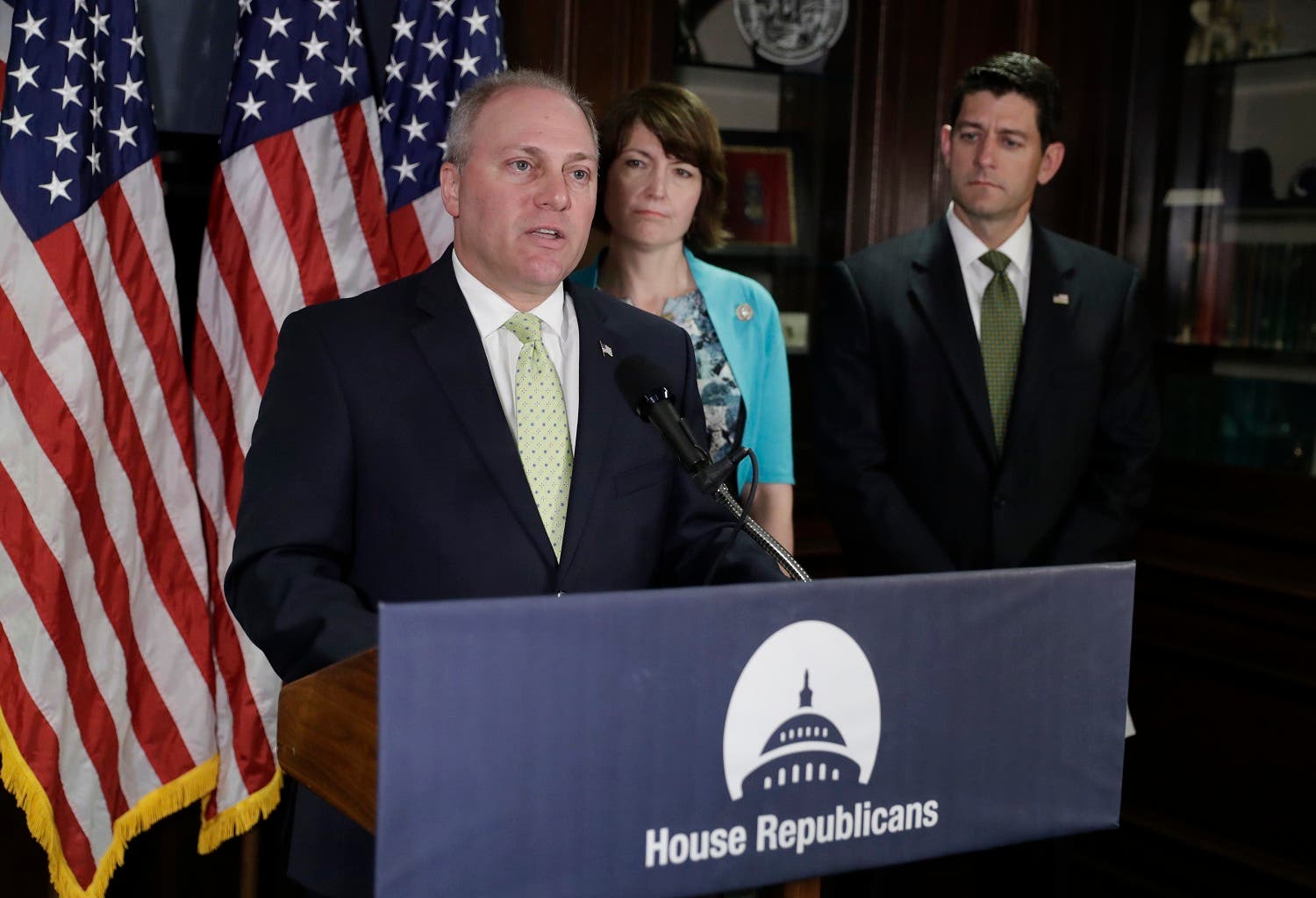 A congressional aide said Scalise, 51, was in stable condition at George Washington University Hospital.
Blow-by-blow account
In a dramatic blow-by-blow account, Representative Mo Brooks of Alabama told CNN the gunman was armed with a rifle and appeared to be a white male, "a little bit on the chubby side."

Brooks said he saw the man only for a second, and that he was shooting from a chain link fence behind the third base position on the field where the congressional group was holding its morning practice.

"There must have been 50 to 100 shots fired," he told CNN. "I hear Steve Scalise over near second base scream. He was shot," said Brooks, adding he helped apply a tourniquet with his belt to a congressional staffer who was shot in the leg.

"One of our security detail was shooting back, but it was our pistol versus the shooter's rifle," Brooks said. "The only weapon I had was a baseball bat."

Fox News anchor Bret Baier tweeted that Scalise, of Louisiana, was shot in the hip and is expected to survive.

Scalise's position as whip in the Republican-controlled House makes him one of the most senior figures in Congress. He is a representative from Louisiana.
Brooks said several other people also were hit, including two law enforcement officers. Brooks said that Scalise, 51, was down on the ground with what Brooks described as "a hip wound."
Rep. Mike Bishop, R-Mich., said Scalise was standing on second base when he was shot. "I was looking right at him," Bishop told Detroit radio station WWJ. "He was a sitting duck."
Brooks said the Scalise "crawled into the outfield, leaving a trail of blood."
"We started giving him the liquids, I put pressure on his wound in his hip," Brooks said.
Scalise is the No. 3 House Republican leader. He was first elected to the House in 2008 after serving in the state legislature.
Deeply saddened, says Trump
US President Donald Trump, a Republican, said he and Vice President Mike Pence were aware of the shooting and are monitoring developments closely.

"We are deeply saddened by this tragedy. Our thoughts and prayers are with the members of Congress, their staffs, Capitol Police, first responders, and all others affected," Trump said in a statement.
Other witnesses
Rep. Jeff Duncan said in a statement that he was at the practice and "saw the shooter."
"Please pray for my colleagues," Duncan said.
House Speaker Paul Ryan's office said Scalise's wounds were not believed to be life-threatening and that a member of the security detail was also shot.
Katie Filous was walking her two dogs near the field when she heard "a lot of shots, probably more than 20." She said the shooting "went on for quite a while."
Filous said she saw the shooter hit a uniformed law enforcement officer, who she said was later evacuated by helicopter. She said the officer had gotten out of a parked car, drawn a handgun and shouted something to the gunman, who then fired.