A new poll Thursday showed that most Americans favor leaving in place statues of Civil War figures associated with the defense of slavery, offering a measure of support for President Donald Trump's stance on the issue.
Days after a violent rally by right-wing groups to protest removal of a statue of Confederate general Robert E. Lee in Charlottesville, Virginia, the NPR/PBS NewsHour/Marist poll found that 62 percent felt the statues should remain as historical symbols.
"Just 27 percent said they should go," said NPR. And, in a striking breakdown, 44 percent of African Americans agreed the statues should stay, against 40 percent who said they should be removed.
ALSO READ: UN: Racism, xenophobia must be opposed in US, worldwide
Located mostly in the southeastern United States, there are some 1,500 symbols of the pro-slavery Confederacy which fought and lost a war to secede from 1861-65. An estimated 750,000 people, or more than two percent of the US population at the time, were killed in the conflict.
The monuments, as well as the names of many roads, schools, and public buildings, mostly celebrate Lee, the leader of the Confederate forces; Jefferson Davis, the president of the Confederacy; and General Thomas "Stonewall" Jackson, one of Lee's top commanders.
In the poll of 1,125 people nationwide, Republicans overwhelmingly supported keeping the statues in place, with only six percent in favor of removing them.
But Democrats were almost evenly divided: 47 percent favored pulling them down, while 44 percent support leaving them in place for history's sake.

The poll appeared to lend support to Trump's controversial stance on the issue.
President Donald Trump says it's "Sad to see the history and culture of our great country being ripped apart" with the removal of Confederate statues and monuments around the country.
Local and state officials have renewed pushes to remove Confederate imagery from public property since the violence and death of a woman in Charlottesville, Virginia, during a white nationalist rally over the removal of a Robert E. Lee statue.
Baltimore and other cities have already removed or covered up Confederate statues.
Trump in a Thursday tweet called them "our beautiful statues and monuments" and said "you can't change history, but you can learn from it."
"Robert E Lee, Stonewall Jackson - who's next, Washington, Jefferson? So foolish!" Trump continued. "The beauty that is being taken out of our cities, towns and parks will be greatly missed and never able to be comparably replaced!"
Business councils disbanded
President Donald Trump has abruptly disbanded two of his White House business councils in the latest fallout from his combative comments on racially charged violence in Charlottesville, Virginia.
Wednesday's decision came as the White House tried to manage the repercussions from Trump's defiant remarks a day earlier, in which he blamed the violence at a white supremacist rally on "both sides."
Trump himself stayed out of sight Wednesday, but he returned to Twitter early Thursday to chastise Sen. Lindsey Graham for remarks the South Carolinian made about Trump's take on Charlottesville. He also had harsh words for Sen. Jeff Flake, an Arizona Republican.
He posted one tweet saying that "publicity-seeking Lindsey Graham falsely stated that I said there is moral equivalency" between the white supremacists and the counter-demonstrators at Saturday's violent protest.
Apple's Cook vows donations to rights groups
Apple Inc CEO Tim Cook has joined a chorus of business leaders who have voiced their opposition to President Donald Trump after he blamed white nationalists and anti-racism activists equally for violence in Virginia over the weekend.

"I disagree with the president and others who believe that there is a moral equivalence between white supremacists and Nazis, and those who oppose them by standing up for human rights. Equating the two runs counter to our ideals as Americans," Cook wrote in a note late on Wednesday to employees, according to technology news website Recode.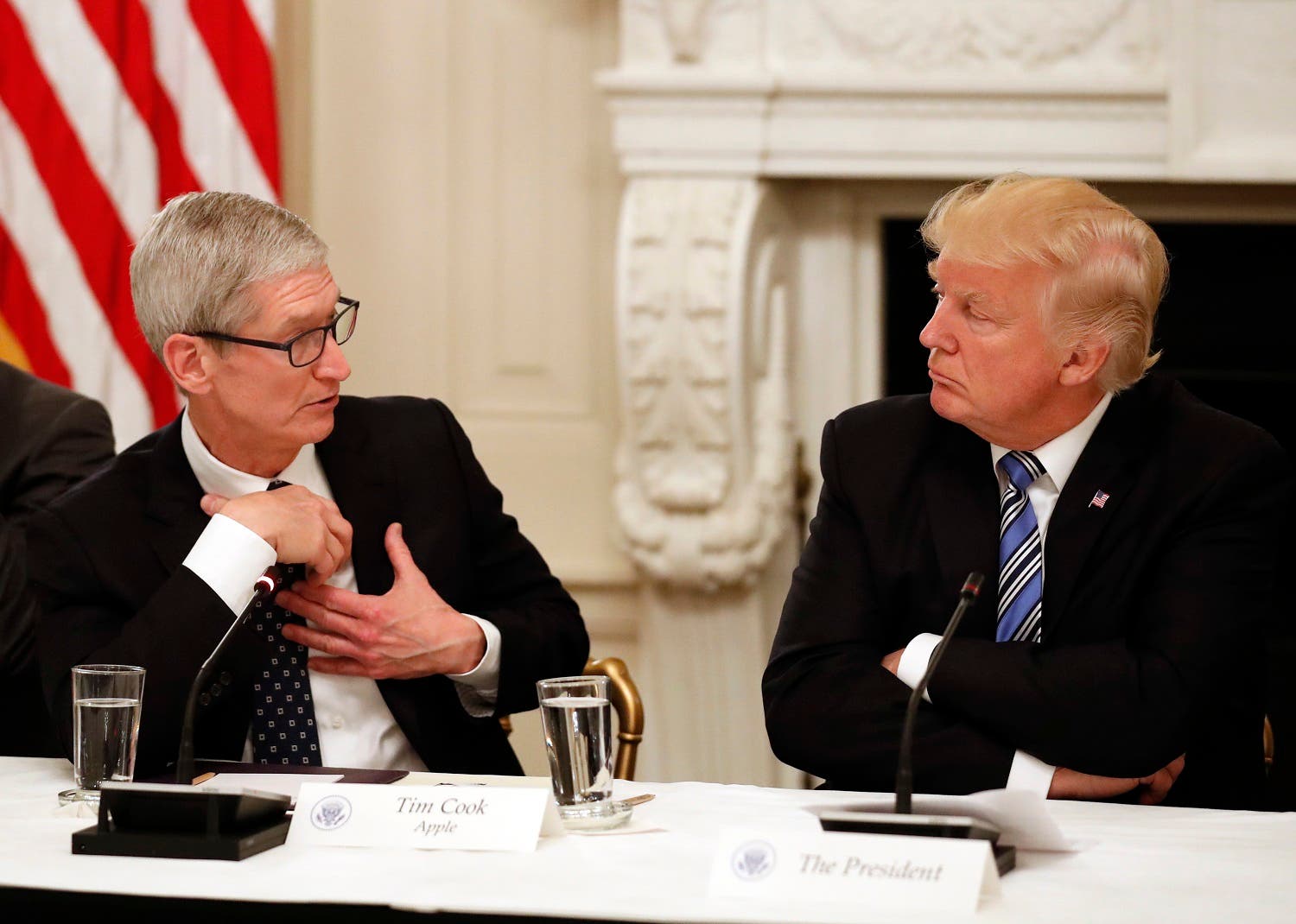 Cook also said in the letter that Apple will donate $1 million a piece to the Southern Poverty Law Center and the Anti-Defamation League and will match two-for-one their donations to the organizations and other human rights groups until Sept. 30.

"Regardless of your political views, we must all stand together on this one point - that we are all equal. As a company, through our actions, our products and our voice, we will always work to ensure that everyone is treated equally and with respect," Cook wrote.

Cook's letter came hours after Trump disbanded two high-profile business advisory councils as several chief executives quit in protest over his remarks blaming weekend violence in Charlottesville, Virginia on anti-racism activists as well as white nationalists that left a 32-year-old woman dead.

"The events of the past several days have been deeply troubling for me, and I've heard from many people at Apple who are saddened, outraged or confused," Cook said.